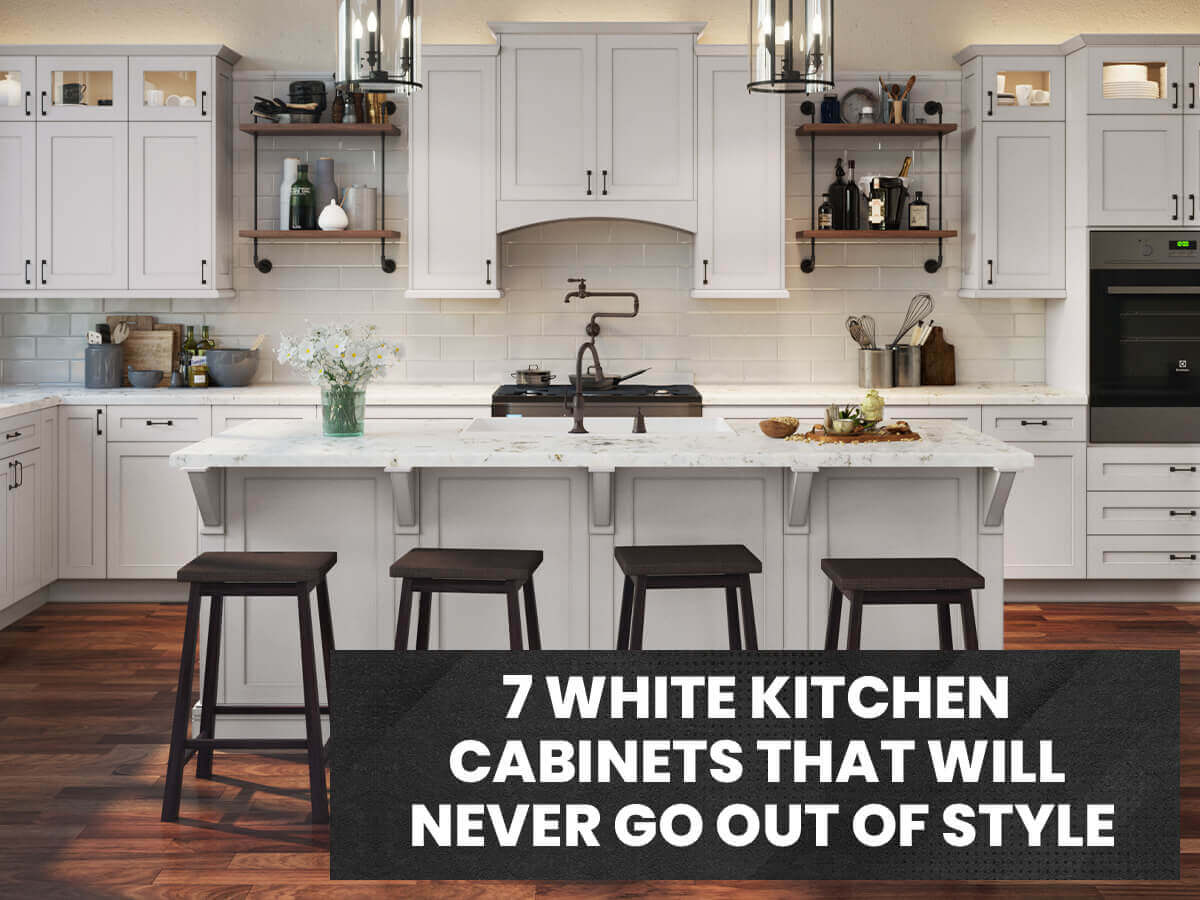 24 Nov

7 White Kitchen Cabinets That Will Never Go Out of Style – That Cabinet Company

White cabinets are the epitome of classic kitchen design. But is sticking to such a neutral color limiting when it comes to design? The answer is quite the opposite. There are many ways that you can express your style with white cabinetry included. Several interior design styles can be paired with this neutral shade of painted white kitchen cabinets.
Elegant White Kitchen Cabinets
A neutral color palette combined with elevated materials such as marble countertops and brass hardware crafts a kitchen design with an elegant look and feel. A recent trend, to make it even chicer, is mixing metals. For instance, installing a gold kitchen faucet, brass cabinet hardware, and stainless-steel appliances.
To further elevate this type of kitchen design, these modern elements are often paired with more timeless pieces, such as chandelier lighting and leather seating. This mix of textures and neutral tones creates a refined space perfect for hosting dinner parties and cocktail hours.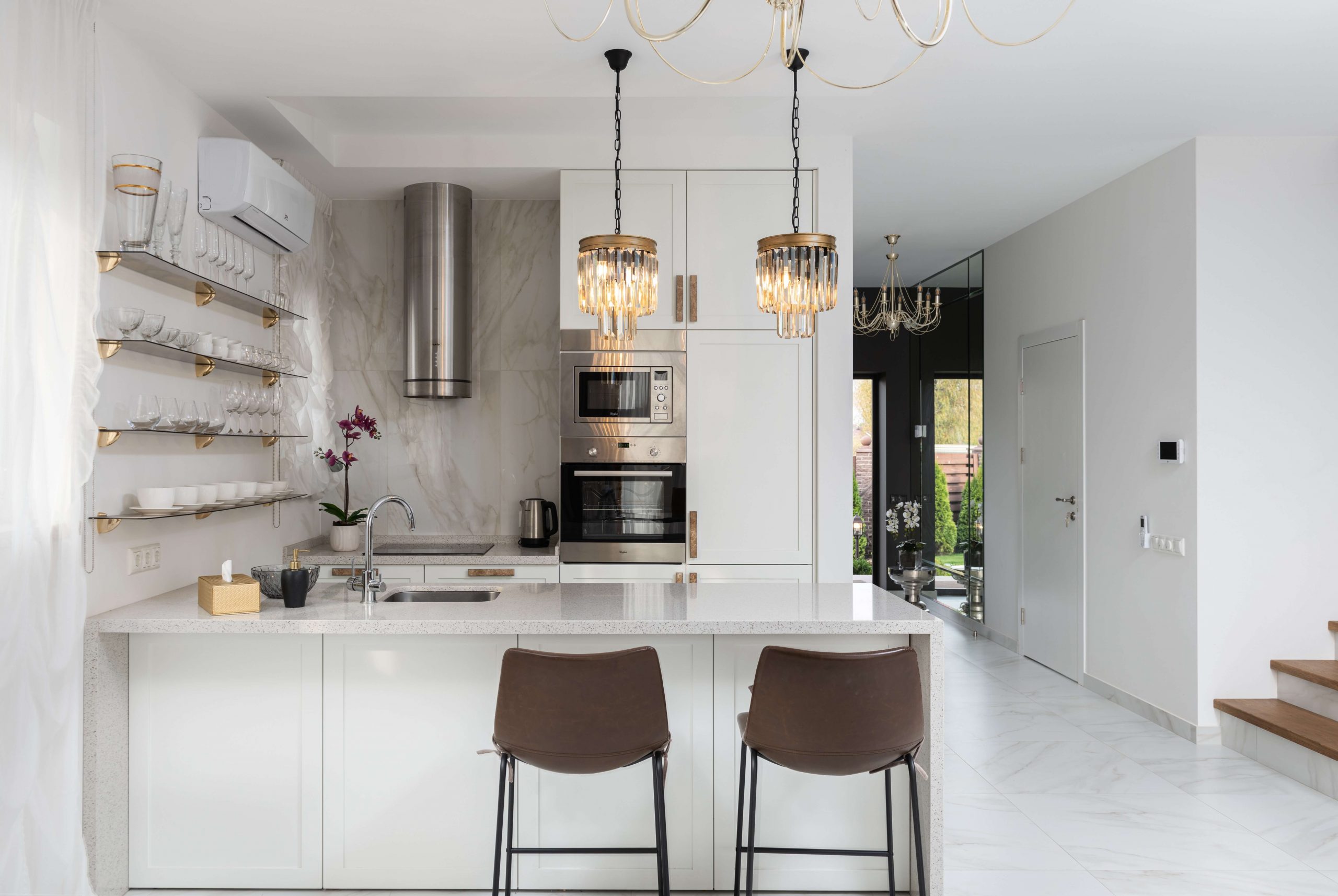 Photo by Max Vakhtbovych
Sleek White Kitchen Cabinets
Modern kitchens that are impeccably organized will always be in style. A super minimalist design paired with white shaker kitchen cabinets, stainless steel appliances, and clutter-free countertops work together to construct a polished, fresh look and feel.
Commonly these types of kitchen designs stick to cool tones when it comes to finishes, such as nickel for items such as kitchen faucets and cabinet hardware. Plus, when finished with a glossy coat of paint, white shaker cabinets further the almost futuristic appearance and appeal of a modern kitchen.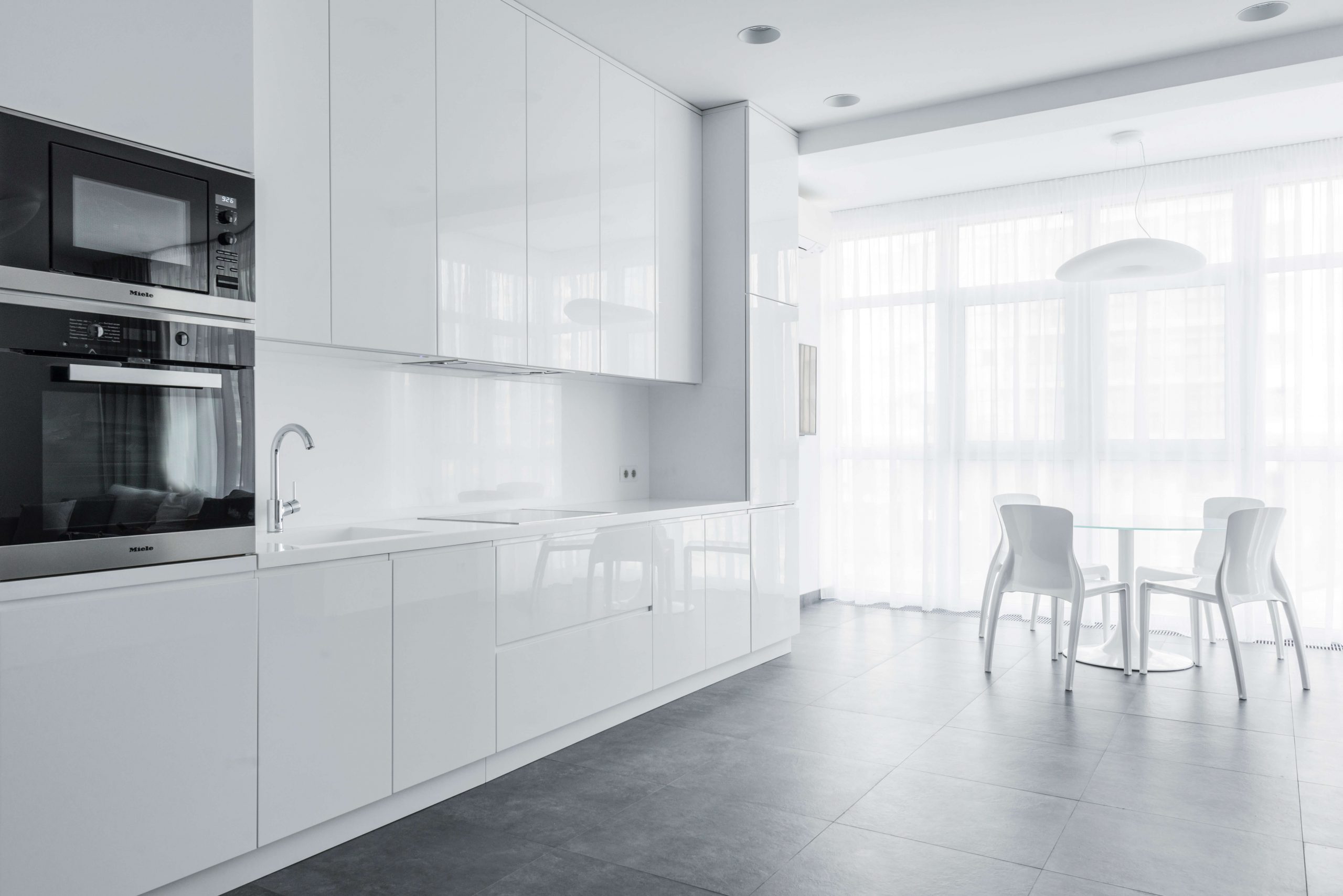 Photo by Max Vakhtbovych
Farmhouse White Cabinets
If you or your client are drawn to more rustic textures and styles, farmhouse white cabinets are a terrific addition to a warm and inviting kitchen design. These cabinets alongside matte black hardware, wooden floating shelves, and a plethora of plants culminate to create an aesthetically pleasing and interesting space.
To take it one step further and really inject the farmhouse style into a kitchen design, select a wooden top for the kitchen island and a deep stainless-steel sink. These can easily be cleaned and sanitized with a mixture of vinegar and water.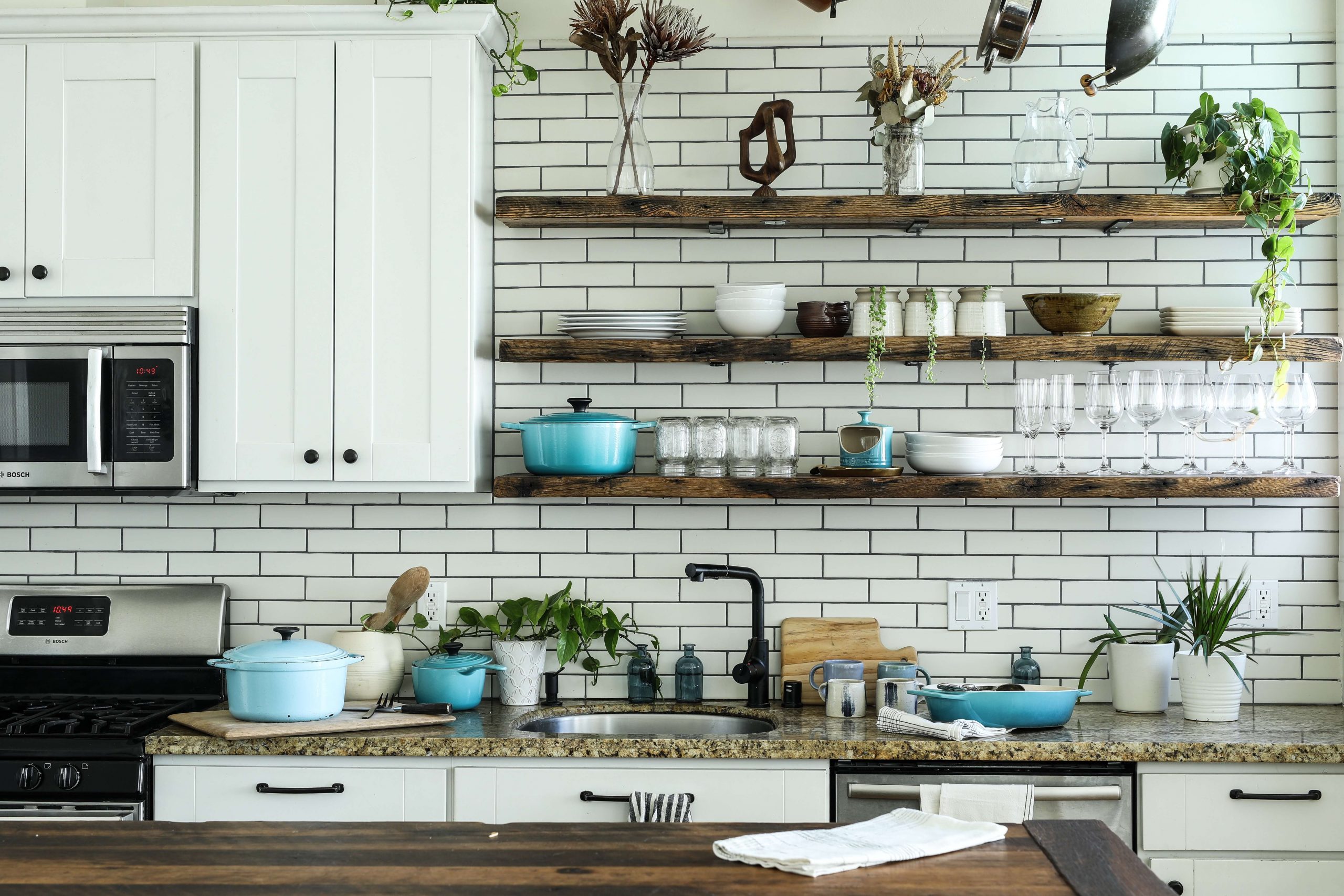 Photo by Edgar Castrejon on Unsplash
Midcentury Modern White Cabinets
Between the 1940s and 1960s, the midcentury modern interior design style sprouted into existence with the population's fascination with the future and innovation. These designs largely feature geometric shapes, natural elements brought indoors, and simplistic beauty.
Take the photo below for example. The sleek white cabinets combined with black countertops, wooden features across the wall, as well as the silver (almost chrome-like) hardware throughout combine to form a design that perfectly reflects aspects of both modern and vintage styles.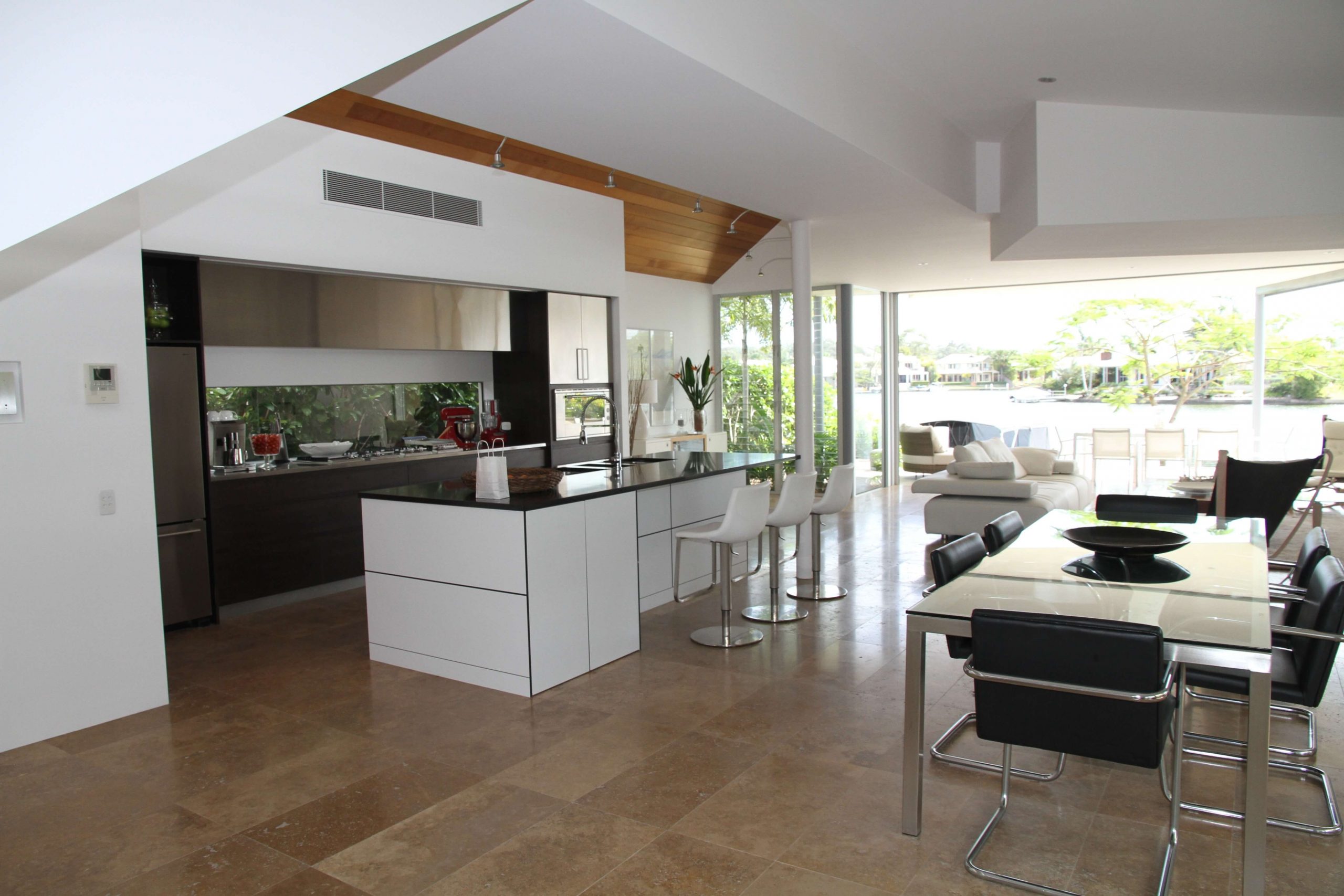 Photo by Pixabay
Industrial White Kitchen Cabinets
Even more so on the modern side of the design spectrum is an industrial-style kitchen. This type of kitchen design is often seen in city flats, from Boston to London. This style is known for its combination of raw and manufactured materials from exposed beams to reclaimed wood, even steel and concrete make appearances in these designs.
Another key factor in carrying out this type of look is the lighting. Vintage pendant lighting is often chosen, which is usually a variation of what is pictured below. This type of lighting reflects a warm glow across the room and creates a cozy feel.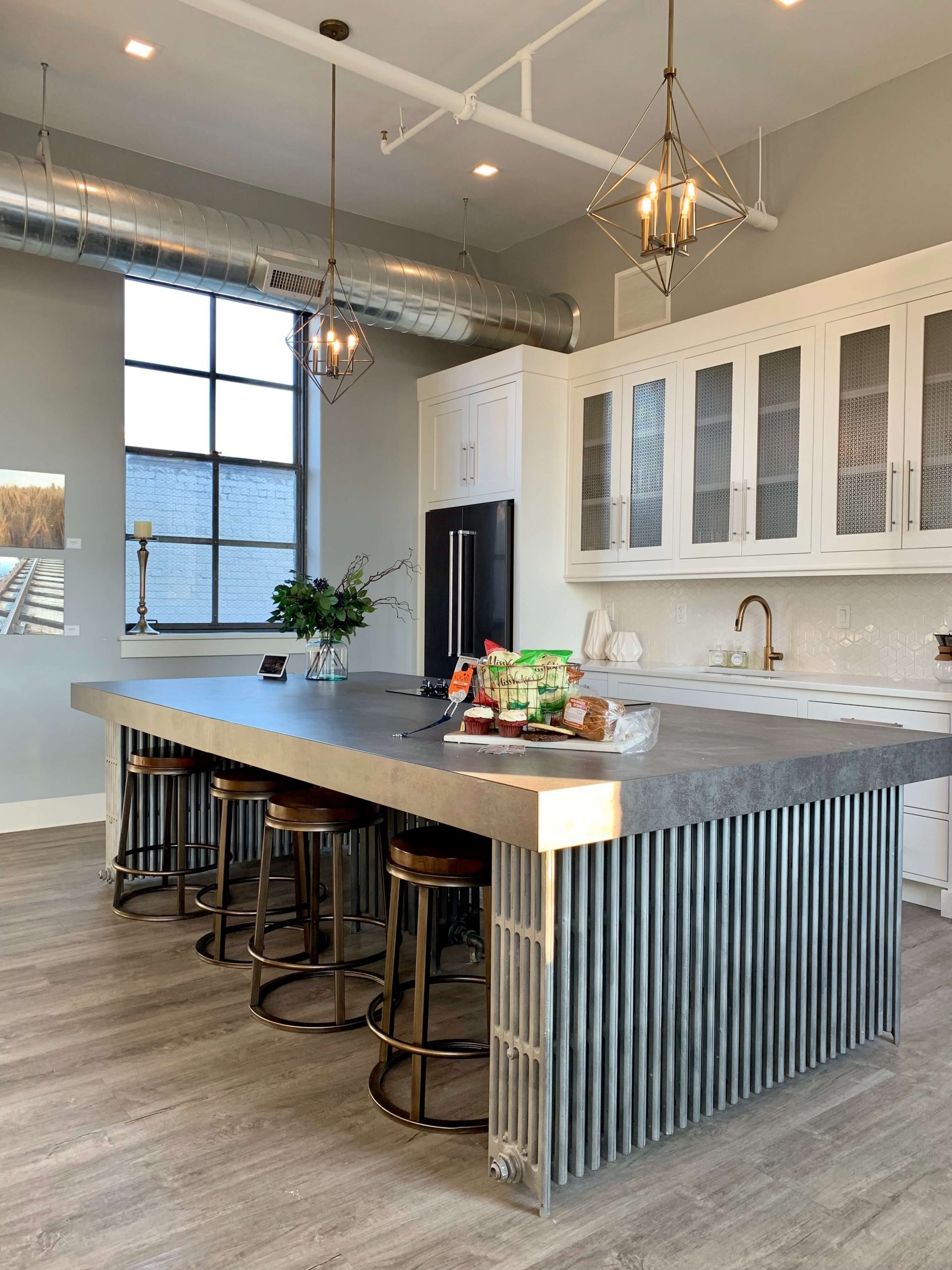 Photo by Adam Winger on Unsplash
Traditional White Kitchen Cabinets
Of course, one can never go wrong with traditional white cabinets, complete with classic raised panels and curved or sloped edges. A neutral color palette is typically combined with quartz countertops and farmhouse sinks.
Traditional kitchens are named due to the timelessness of the elements used within each design. Due to this combination of soft lighting, warm wood, and white cabinets, a comforting and inviting space is produced for both the homeowner and their guests.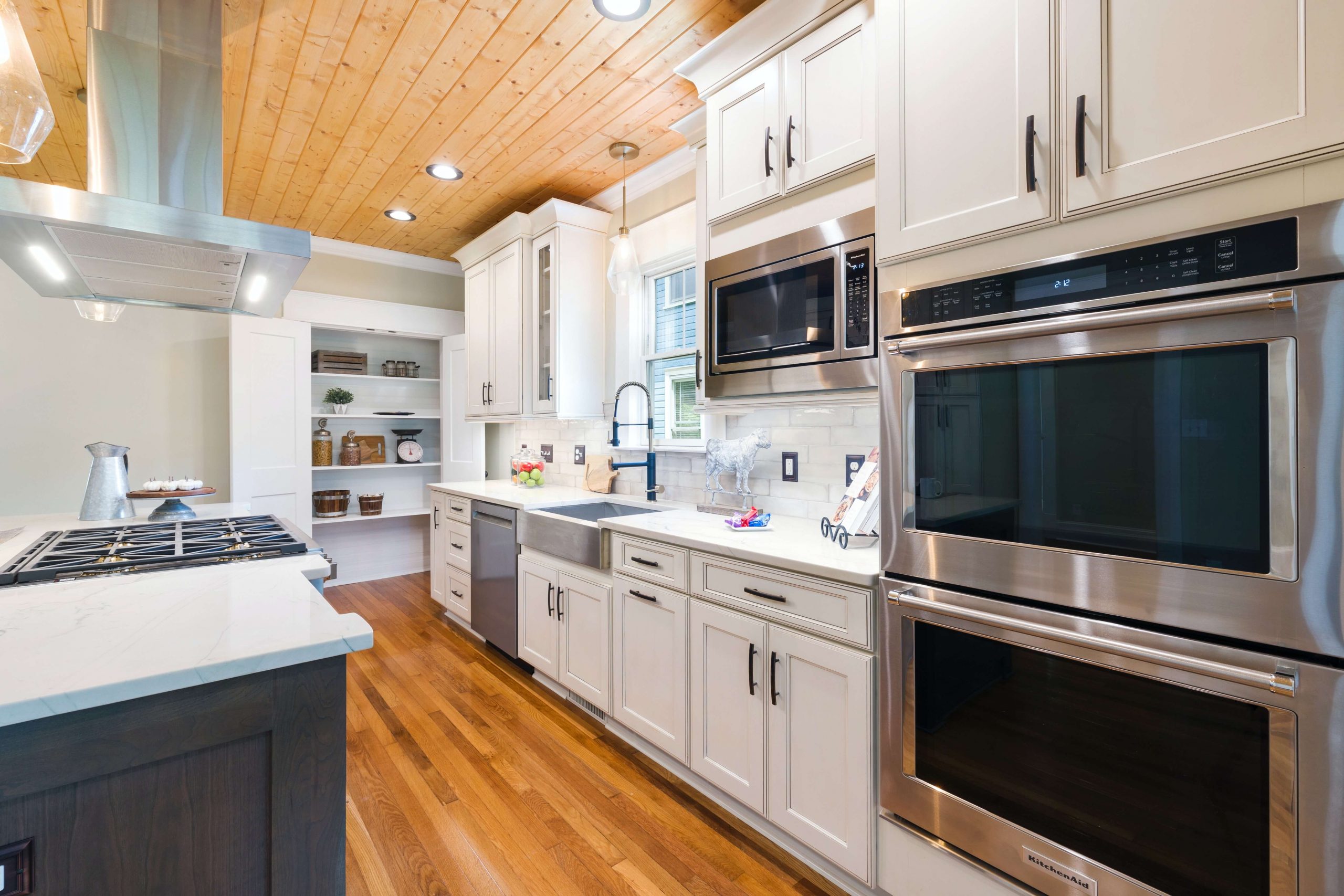 Photo by Curtis Adams
Bohemian White Cabinets
The boho style of interior design can be traced back to the 19th century in western Europe and takes inspiration from the 1960s-70s color palette and trends. Numerous colors are mixed and matched within a bohemian space, including blues, greens, warm shades of oranges, browns, whites, etc.
The core of this interior design style is a free-spirited and eclectic mix of elements. As shown below, this culmination of natural wood in various stains, light countertops, plants, and natural textures such as rattan crafts a relaxed, retro look and feel within a kitchen.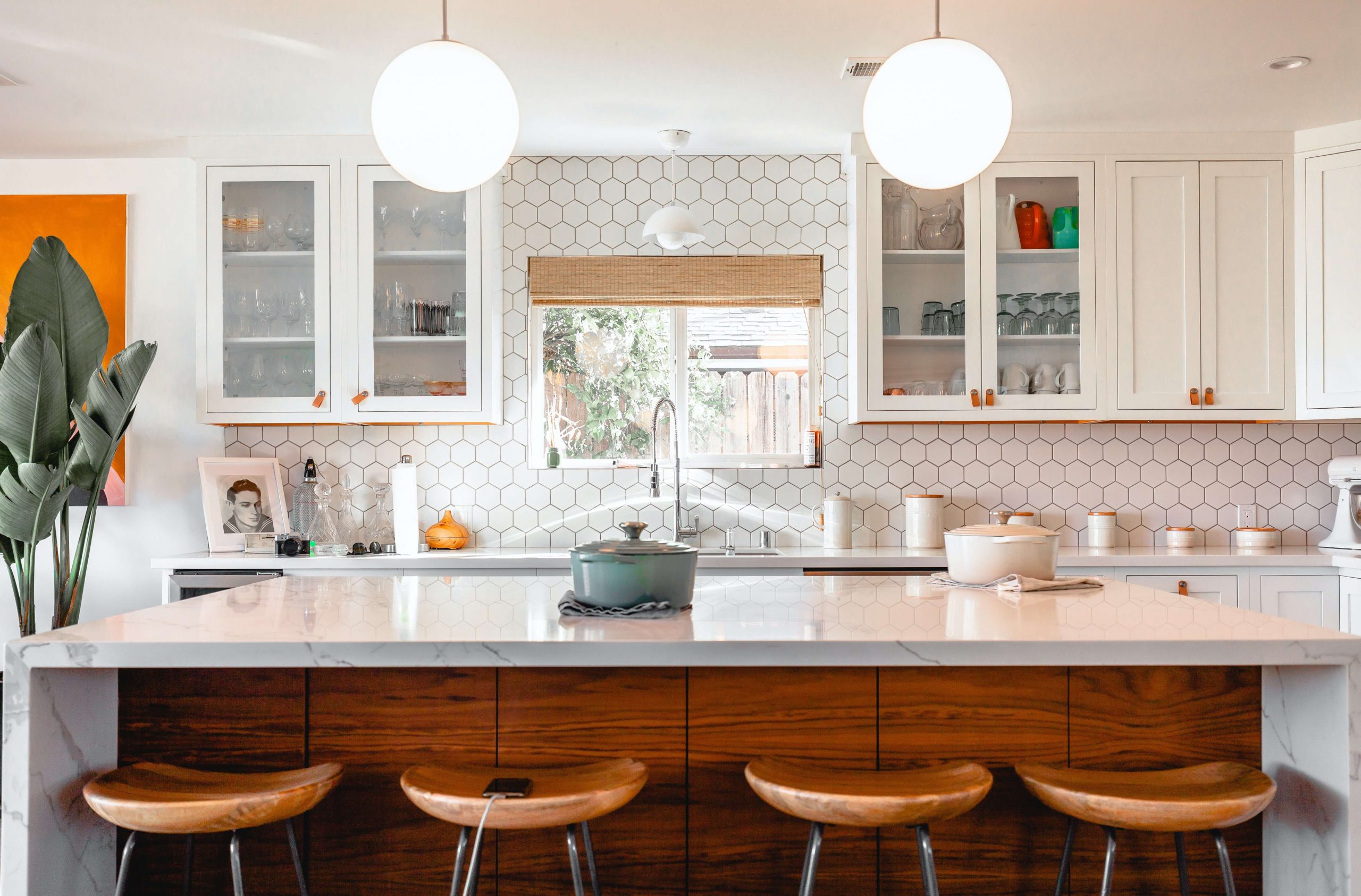 Photo by roam in color on Unsplash
As detailed above, white kitchen cabinets are incredibly versatile and fit several styles beyond the seven that were discussed here. From traditional to bohemian and everything in between, the possibilities are limited only to the designer's imagination!
FAQs (Frequently Asked Questions):
1. Are white kitchen cabinets still stylish?
Yes, absolutely, white kitchen cabinets are still very much in-style. White cabinets are incredibly adaptable and accessible, making them a timeless choice for any sort of kitchen design. No matter if you're bringing a monochromatic, minimalist or rustic, farmhouse design to life, there is a white kitchen cabinet door style that will work!
2. What color countertop pairs best with white cabinets?
The interior design style chosen will decide the best countertop selection for the space. For example, white marble countertops pair well with white cabinets for an ultra-modern kitchen design. On the other hand, for a more industrial-style kitchen design, a dark gray shade of countertops would be better suited. Since white kitchen cabinets are so versatile, practically any color and style of countertop can be paired with them.
3. What is the most popular kitchen cabinet style?
Across the board, the most popular kitchen cabinet style tends to be shaker-style cabinets. This door style features clean lines, square edges, and a no-frills appearance. Inset doors and box construction are also associated with this beloved kitchen cabinet door style.
4. Are Shaker cabinets high-end?
Shaker-style kitchen cabinets are an affordable choice to include in a kitchen design. However, that does not mean that the quality of these cabinets is lacking. As with any other style of cabinets, they're a financial investment into a home or business, that is well worth it in the end. Plus, since these cabinets are so timeless and adaptable in design, you do not have to worry about them going out of style a few years after the project is completed.