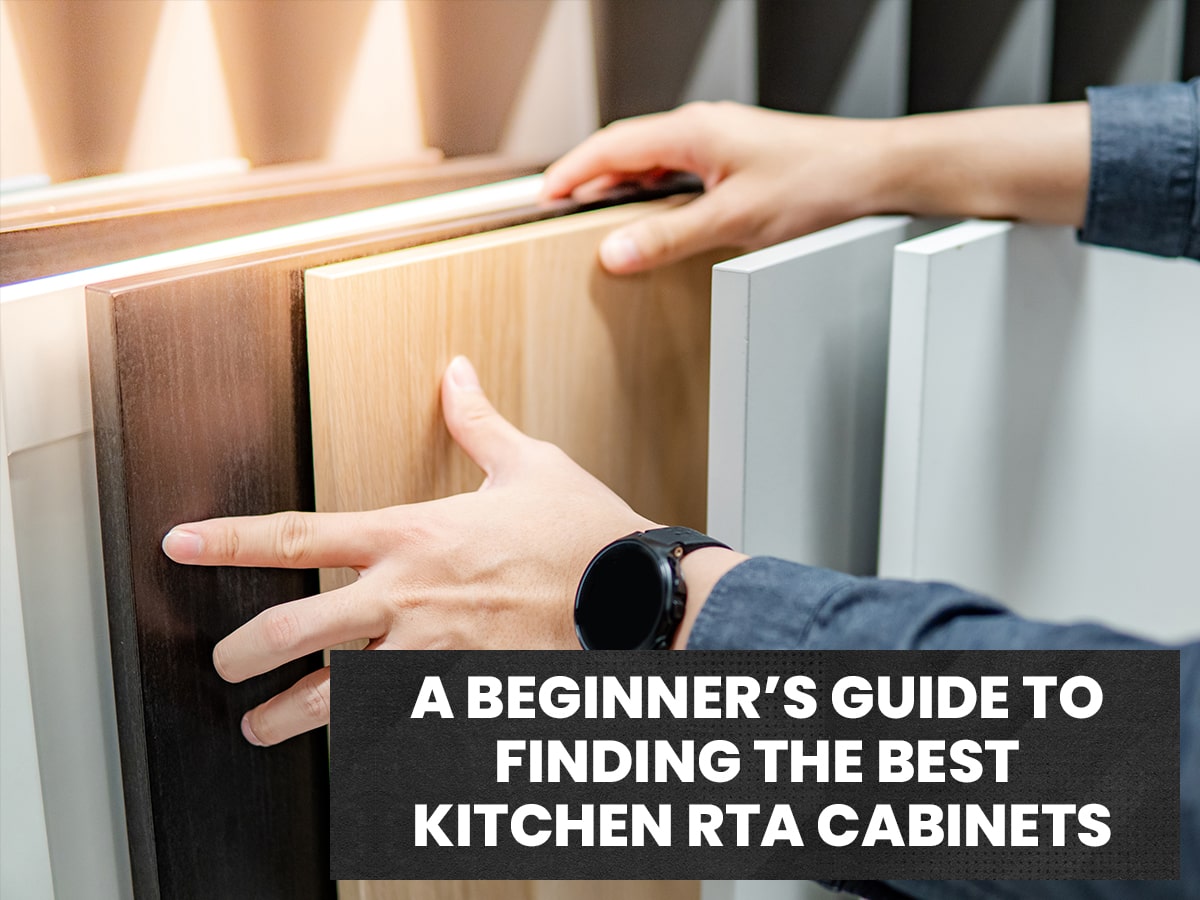 09 Aug

A Beginner's Guide to Finding the Best Kitchen RTA Cabinets

So, you've decided to remodel your kitchen. You're excited to design a beautiful and unique kitchen that will make your home feel that much more amazing. But you start to look around your kitchen and you realize – this is going to take a lot of work. Where do you begin? How do you figure out which cabinet is best? How can you figure out what it will look like when it's installed? We'll walk you through the 8 easy steps to find the best RTA cabinets for your kitchen.
Things to Consider:
When you're buying new cabinets for your kitchen, there are three things you should keep in mind – planning, shopping, and execution. It's important to keep your goals in mind while shopping to keep the process from getting overwhelming. Planning keeps the process simple and gives you something to refer to while you shop. Use the following 8 steps as a template for planning your remodel.
1. Determine What's Important
Figure out what you must have in your new kitchen. Are you looking for more storage? A different style of cabinet? Specific colors? Make a list of things you absolutely want in your kitchen cabinets to keep in mind while you shop.
2. Take Measurements
Measuring the space in your kitchen is a must when buying cabinets. If you don't know how much space you're working with you could end up buying the wrong size cabinets. Luckily, That Cabinet Company offers tips on how to measure your kitchen. Start by measuring your walls, then measure any window or door openings. Measure these openings by starting at the corner of the wall and measuring to the outside casing around the window or door, then measure the opening itself. If you have any switches, outlets, gas pipelines, or water pipelines in your kitchen, measure from the corner of the nearest wall to where the appliance starts and mark it down. Do the same thing with appliances such as ovens, refrigerators, and washing machines. Also, measure the ceiling height and any soffits. Beyond size and shape, you also must consider costs.
3. Create a Budget
It's easy to get excited when you're buying new cabinets for your kitchen. There are so many options to choose from, but cabinets can get expensive, and trying to calculate cost with no plan is a recipe for disaster. That's why it's crucial to make a budget when you're exploring your cabinet options. From there you can narrow it down to cabinets within your price range. It's also a good idea to look at the average costs of RTA cabinets and plan which ones to look at from there.
4. Explore Your Options and Their Reviews
Compare and contrast RTA cabinet prices from big box and online stores. From here you can decide which one you would like to shop from. Also look at reviews of the cabinets you would like to buy, to make sure that they are high quality and will hold up to whatever your life throws at them.
5. Create a 3D Model of Your Kitchen
Once you've settled on the cabinets you think you want, put them into a 3D model of your kitchen. That Cabinet Company offers a free 3D kitchen redesign on their website to help you decide which cabinets will look best. Input your ceiling height in inches, your chosen start date, your budget, the upper height of your cabinets, some pictures of your kitchen, your chosen cabinet style, and your contact information and That Cabinet Company will create a model of your kitchen.
6. Get Samples of Your Cabinets
When you've narrowed your decision down to a few cabinets, you can get samples of them to test in your kitchen. Sometimes there are differences between how the cabinets look online versus in person, so it's important to see how they look in your house. That Cabinet Company offers samples of all their cabinets for you to choose from.
7. Decide Which Cabinets You Want
Here is where you look back over all your information and make your final decision. Take everything you know into consideration before moving on to the final step, and double check to make sure it's everything that you want.
8. Order Your New Cabinets
Once you've decided on your cabinets and you know they're perfect, you can place your order. All that's left to do now is assembling and installing the cabinets once they arrive. That Cabinet Company has videos on their website that will help with assembling your cabinets if you need some extra help. You'll have a brand-new kitchen with beautiful cabinets in no time!
Conclusion
Now that you know what to do when shopping for RTA cabinets, you can start your shopping with confidence. A great place to start your shopping is That Cabinet Company. They have a great selection of RTA cabinets for your kitchen with lots of color options and wood types. They also offer a free 3D kitchen designer tool.