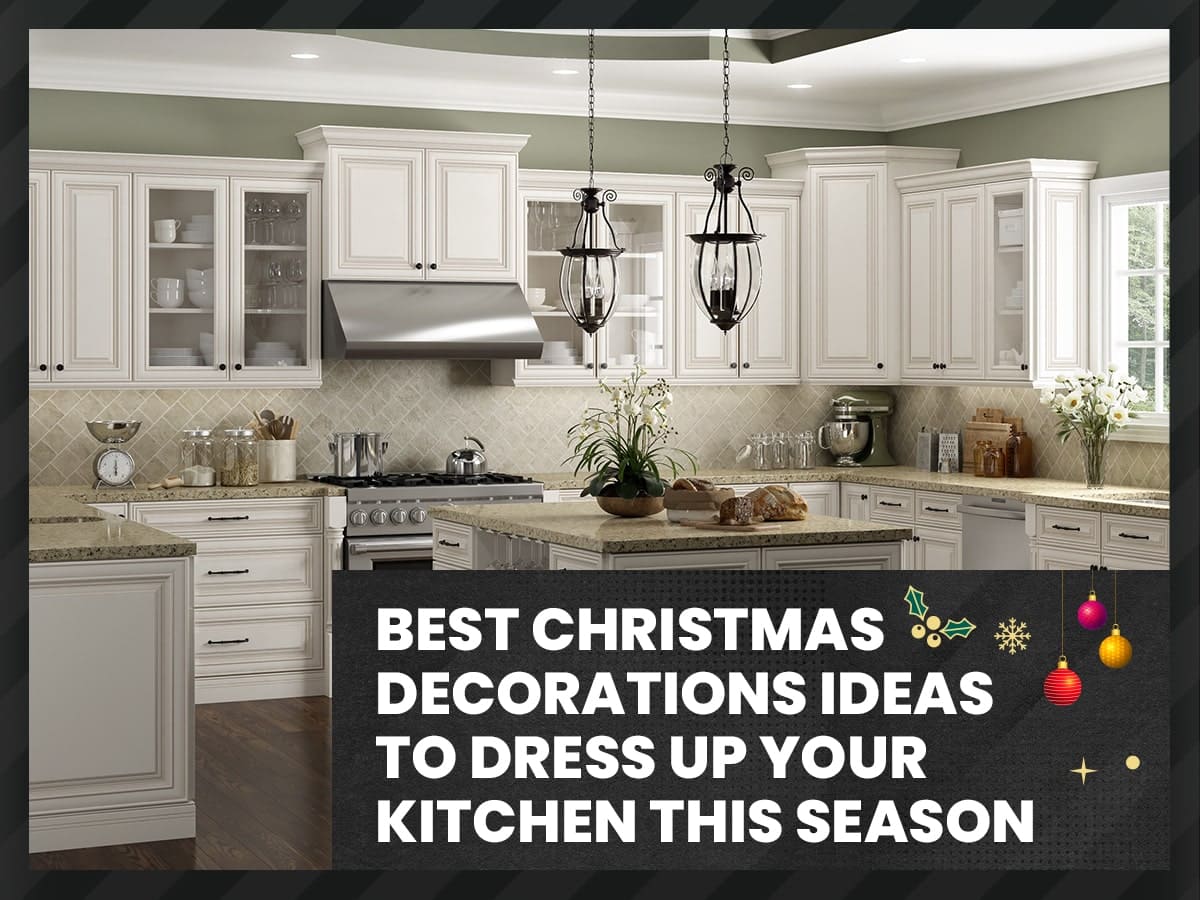 27 Dec

Best Christmas Decoration Ideas to Dress Up Your Kitchen This Season

As the heart of your home, you can't leave your kitchen out of all the holiday fun! The kitchen is the center where, most likely, the whole family will meet. So, displaying that Christmas joy in your kitchen decorations should be just as important as the outside decorations. If you're trying to come up with some last minute kitchen decoration ideas, That Cabinet Company is here to give you some tips on how to dress up your kitchen décor for the holiday season.
1. Open Shelving
Having open shelving in the kitchen can be very useful when setting up for the holidays. Utilizing the open shelving and wall space can allow for more decorations. Display your Christmas reef or a garland going across your shelf. Open Shelving is also a great opportunity to showcase your holiday dishware or Christmas cards & pictures. This can add to the Christmas décor as well.
2. Stream Lights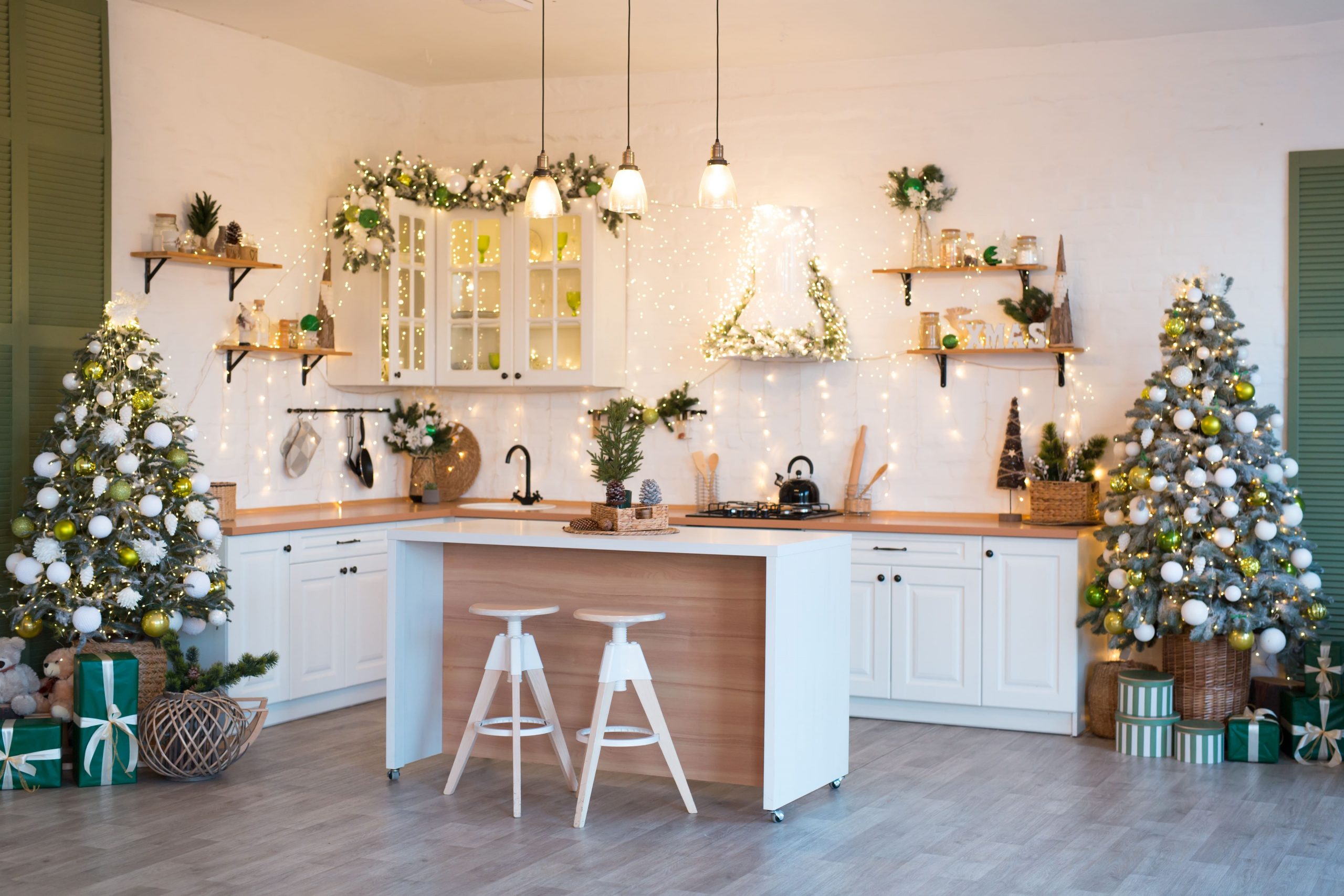 Christmas lights are easy go to make any scenery look festive for the holiday season. Stream your Christmas lights across your kitchen cabinets or line your kitchen walls with the lights. Feel free to get creative with colored stream lights, especially for the kids. However, you always want to keep your kitchen color palette in mind, so that everything coordinates.
3. Bows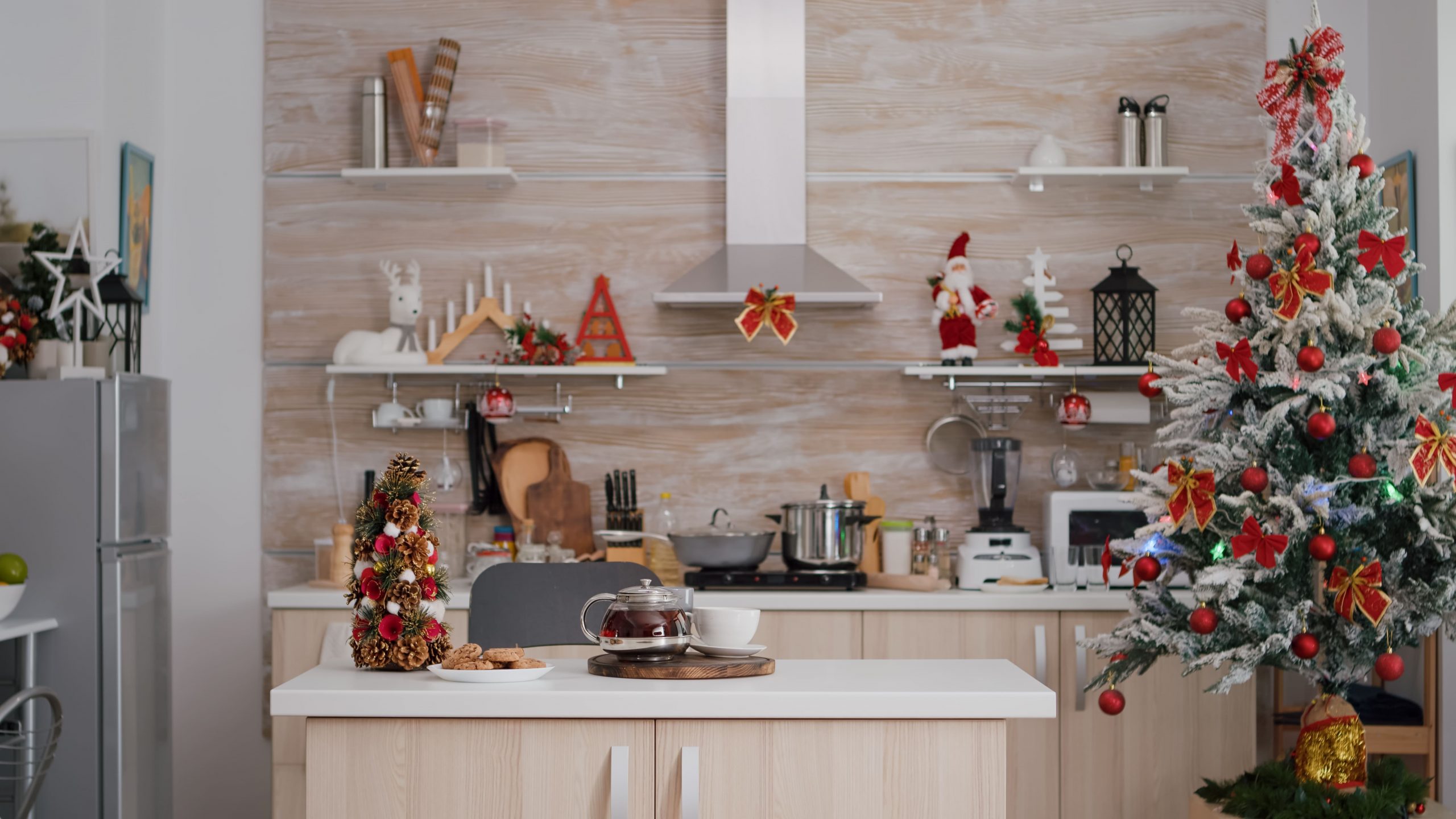 Christmas bows are a cute accessory to add to the holiday kitchen décor. Pair a nice big or medium red bow to Our Everest White shaker kitchen cabinets for a classy look. Or you can even tie a neat bow around your kitchen chairs. Either way brings a very elegant look to your holiday décor.
4. Wrapping paper
Who knew Christmas paper could be used for more than just wrapping gifts? We did! Wrapping paper is a create way to get creative with your decorations in the kitchen. There are so many ways to wrap something and so many styles of wrapping paper that can be used. Whether you're going of r a kid friendly themed wrapping paper or a classy look for guest, it can be achieved with wrapping paper. Using as much or as little wrapping paper as you like is all up to your preference. Wrap your kitchen cabinets, or even your fridge. Whatever your choice, just have fun!
5. Gingerbread House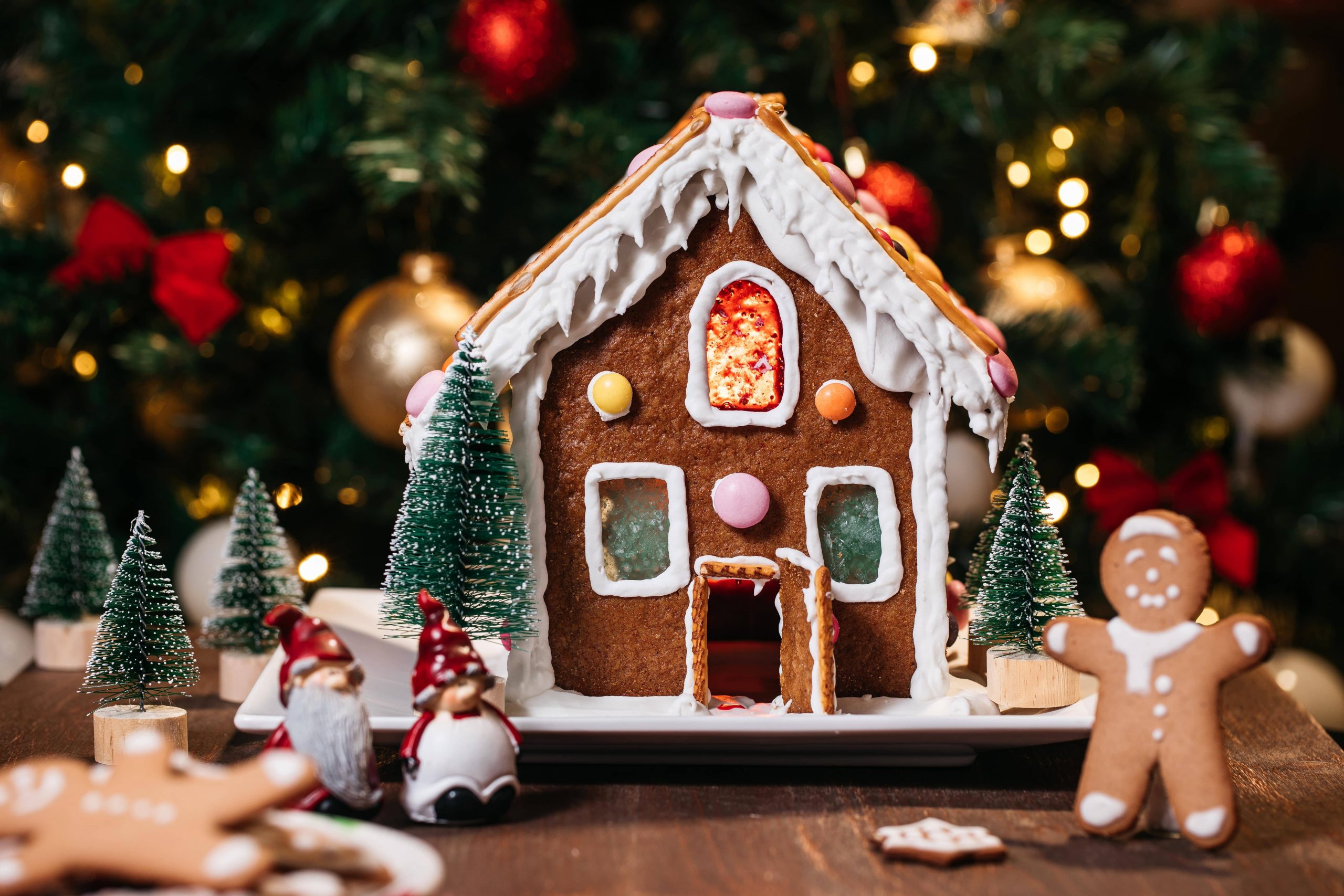 Some Christmas traditions never go out of style. Making a gingerbread house has been a loved holiday activity for many families. And although it is edible, that doesn't mean it still can't make for great holiday décor. Decorating your gingerbread house is a fun activity to do with the whole family, and afterwards you can place them around the kitchen. Place your gingerbread house as the center piece of your kitchen table or your kitchen island. Not only are they cute but they also smell amazing, and the kids will have so much fun with it!
6. Hot Cocoa Bar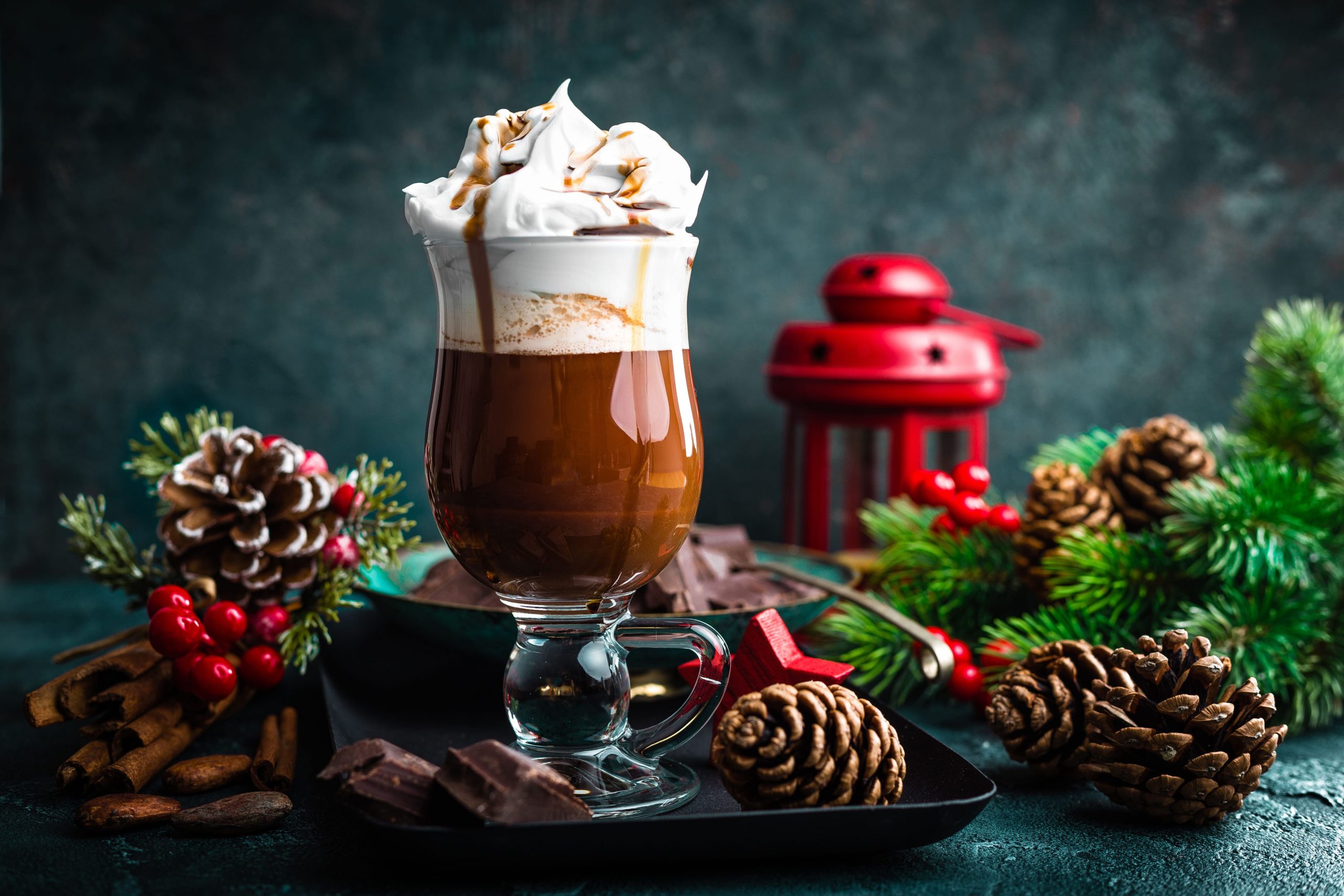 Christmas would not feel the same without hot cocoa, so a hot cocoa bar is almost mandatory! Adding a hot cocoa bar to your kitchen island or kitchen corner is a sure way to make everyone feel the Christmas spirit. Now everyone can make their own hot chocolate with a simple set up station. These hot cocoa stations are so easy to make and will make a fantastic addition to your kitchen décor. Just grab a holiday serving tray, get some festive jars to put your hot cocoa mix and all your favorite garnishments in, like marshmallows, cinnamon, and peppermints and you're all set!
7. Holiday Signs
Decorative signage is a easy go to for the holidays. There are so many styles to choose from! A fun theme for kitchen holiday decorating is a North Pole themed kitchen. A simple North Pole sign can be a gateway to transform your kitchen into the North Pole! Throw some milk and cookies into the equation and your kitchen is ready for Santa.
Christmas is a time to get as creative as you want with your kitchen decorating ideas. Kitchen trends are always great to keep in mind, but the most important thing is that you're having fun while decorating and sharing it with loved ones. At That Cabinet Company, we want to make sure we're always providing our customers with the best kitchen trends and resources to take on those big renovation and redesigning projects. So, when you're ready for quality cabinets at great pricing, with the customer care you deserve, That Cabinet Company is the place to go!