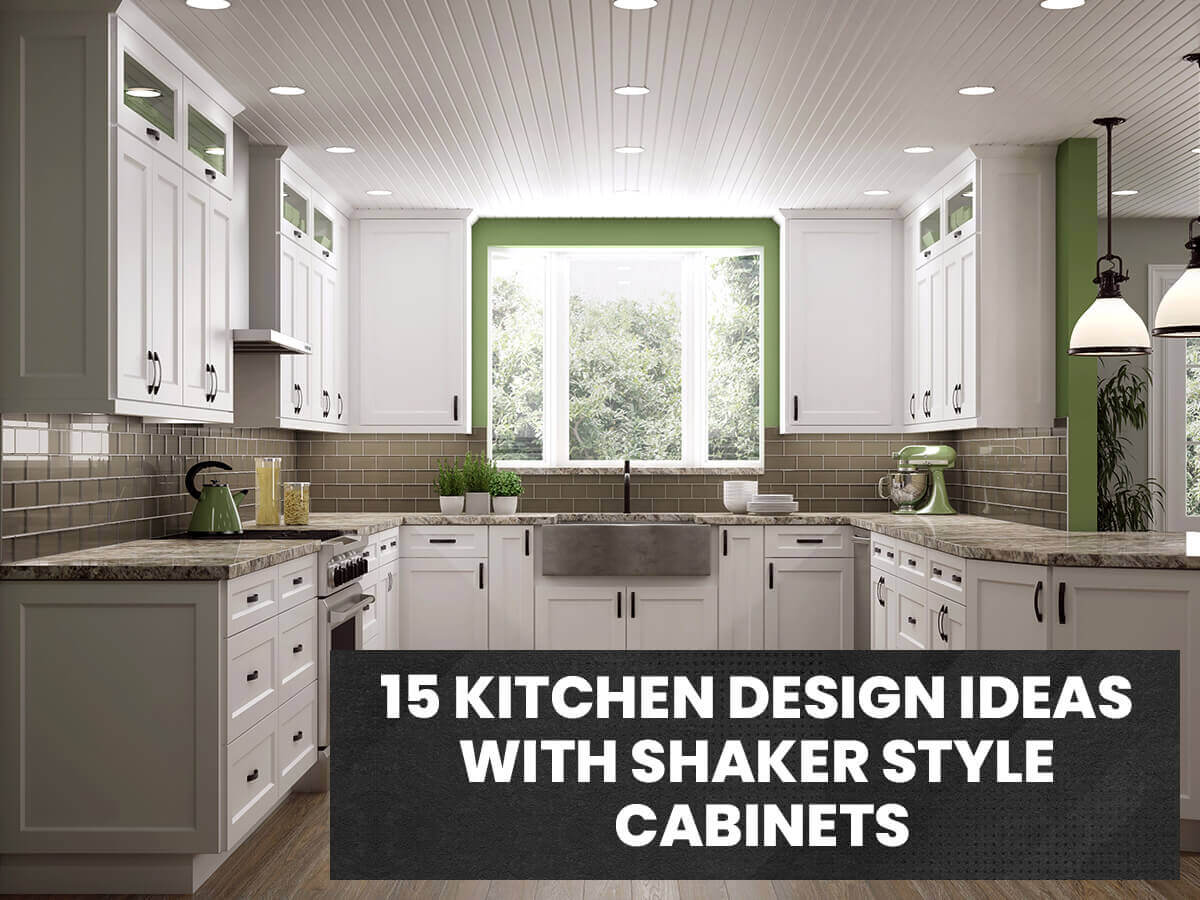 08 Nov

15 Kitchen Design Ideas with Shaker Style Cabinets

Shaker style kitchen cabinets are a classic selection for a reason, they are incredibly versatile. There are endless kitchen design options to choose from when working with shaker cabinets. The following are just some of the possibilities that are available when you work with That Kitchen Cabinet Company.
Modern Kitchen Design Ideas
1. Corner Cabinets
If you are looking to add more storage space to your kitchen without sacrificing floor or island space, corner cabinets are a terrific solution. This cabinet type uses all available cabinet space, which otherwise would go underutilized. Corner cabinets are great areas to store pots and pans, extra pantry items such as dry goods and ingredients, or even additional appliances like rice cookers or waffle makers. With the right design team and proper measurements, the possibilities are virtually limitless.
2. Kitchen Island
Another way to incorporate
shaker cabinets
in a useful way is to use them to build out a large kitchen island, whether that be in the center of the space or to one side of the room. The measurements and space you must work with will likely determine the layout and final placement of said kitchen island. It gives you additional prep space for cooking and baking and can also act as a gathering place for friends and family. Plus, you can fully customize it by adding additional storage underneath the countertop. From open shelving to additional cabinets, there are so many ways to make it your own.
3. Organized Walk-In Pantry
Potentially one of the most practical ideas is to design and build a walk-in pantry. This can feature drawers and custom shelving to create a super functional space for you as a homeowner. From dry goods like rice or potatoes to snacks for kids' lunches, everything can be organized to perfection to suit your needs. Shaker cabinets are the perfect door style to incorporate into a pantry design as well, because they are timeless and will create a clean, fresh look.
4. Ceiling High Kitchen Cabinets
One of the biggest kitchen design trends this year is kitchen cabinets that reach all the way up to the kitchen ceiling. This gives ample storage space for dishes and drinkware, both for daily use and fine china for special occasions. This design choice also keeps any clutter that may be created out of sight behind shaker-style cabinet doors. Your items are there when you need them but nicely hidden away when not being used.
5. Butler's Pantry
Speaking of storage, a butler's pantry provides storage for special dishware, glassware, and other hosting essentials for large meals or gatherings. Plus, a combination of open-shelving, countertop space, and shaker cabinets can be laid out to create a functional yet beautiful architectural piece within your home.
6. Mixed Metal Hardware
Shaker style cabinetry creates a blank canvas within your kitchen. This can be accentuated any way you like. A trending choice is to use mixed metal hardware. From cabinet knobs and pulls to your kitchen faucet and lighting, mixing rose gold, gold, silver, and brass creates a modern look and feel that is unique to you.
7. Coffee Station Built-In
If your mornings consist of chugging several cups of coffee, then a built-in coffee station is a must in your kitchen. From the specific coffee machine used to concoct your perfect brew to the ceramic mugs you sip out of, an at-home coffee bar makes sure that your morning coffee is always made perfectly. Plus, it makes the process much more fun! There are endless design possibilities too. For example, keeping your array of mugs behind chic shaker cabinet doors and your various coffee beans within pull-out organizer.
8. Bold Countertops
Shaker cabinets are a classic design choice, so spicing things up with a bold countertop choice is a fantastic way to make your kitchen more unique. From black marble to colored granite, there are tons of styles and colors to choose from that complement the simplicity of shaker-style cabinets beautifully.
9. Modern and Monochromatic
If you are drawn to a very chic and modern design style, then consider a monochromatic kitchen design. Starting with cabinets, if you select shaker white, then choosing a white backsplash and countertop will create that bright and airy look and feel, along with the modern flair of a monochromatic design. This can of course be done with any color cabinets, however white tends to be the most popular.
10. Unique Backsplash
Speaking of backsplash, choosing a unique color or pattern adds more dimension and interest to a kitchen design. For instance, if you select gray shaker cabinets, choosing a bold color like emerald green for your kitchen backsplash adds an elegant, chic look and feel to the space. Playing around with color in this aspect pairs well with the traditional cabinet door style.
11. Hidden Appliance Cabinets
For a minimalistic appearance, hidden appliance cabinets are a must. When paired with the classically chic shaker-style cabinets, this type of cabinet crafts a sleek, neat kitchen design. From microwave ovens to refrigerators, tucking these large appliances away is a surefire way to cultivate a cleaner-looking kitchen.
12. Glass Paned Cabinet Doors
For a trendy and elevated look, incorporate shaker style doors with glass panes. This allows you to show off any unique home décor items or dishware you may have that you want to display. Plus, it adds value to the home!
13. Built-In Desk Area
If you run your own business or work from home, then a built-in desk is essential, especially if you do not have a separate office or dedicated study. It can be as simplistic or intricate as you would like, with shelves, drawers, and cabinet doors. Plus, using shaker cabinets in both your work and kitchen spaces makes a more cohesive flow from area to area.
14. At-Home Bar
If you love to entertain and make your own cocktails, then an at-home bar would be a wonderful investment. You can customize it to house your drinkware like wine glasses and champagne goblets, mixers, and beverages of your choosing. Furthermore, having this as an extension of your kitchen area allows you as the host to stay in the middle of it all while making your guests' drinks.
15. Mud Room Extension
If an at-home bar or coffee bar is not something you want to incorporate, a mud room extension could be more up your alley. A mud room provides a space to store things like rain boots and other outdoor necessities. You can even place your washer and dryer in this room if you have the space for them.
Working with our expert team at That Cabinet Company gives you a unique opportunity to design the kitchen of your dreams, no matter what it looks like. This business is family run and we treat our customers with the same respect and love.
Talk to designer to go through all the possible kitchen design ideas involving shaker-style cabinets today.