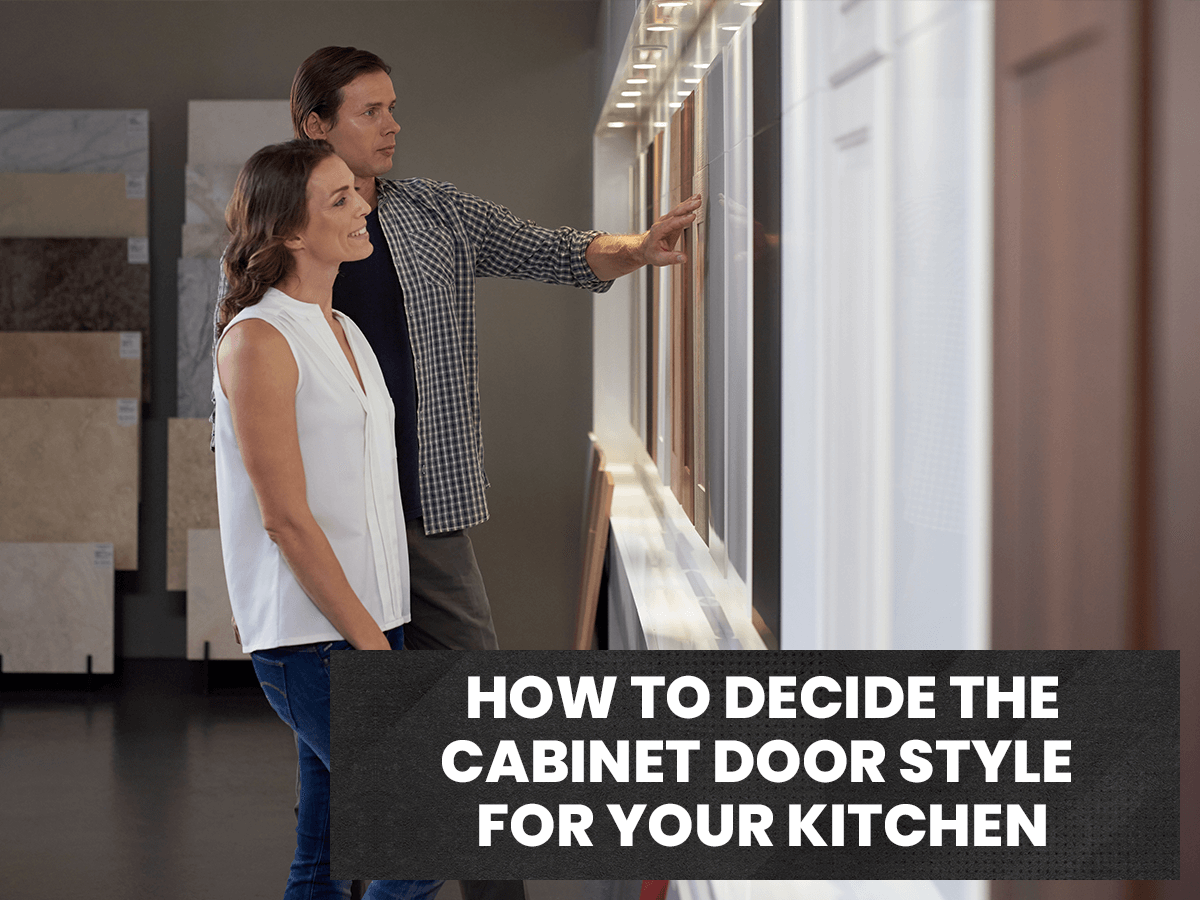 20 Sep

How to Decide the Cabinet Door Style for Your Kitchen
How to Decide the Cabinet Door Style for Your Kitchen
The best thing about kitchen cabinets is that there are so many different styles. There's a cabinet to fit every kitchen renovation, but how do you go about finding the right one? The best way to determine which cabinets you need is to figure out the look you want for your kitchen. You can go traditional and classic, or you can choose something more modern and streamlined. There are even cabinets that fit well with eclectic kitchen décor if your design is non-traditional. In this blog we'll go over which cabinet door styles are best for each kitchen design.
Cabinets For a Traditional Look
A traditional kitchen design is a great look in any home. It's classic, it's pretty, and it will elevate the look of your home. The main hallmark of traditional cabinets is carved elements on the façade, which add a lovely artistic element to your space. The best cabinet doors for a traditional look are traditional raised doors, cathedral doors, arch panel doors, open frame doors, and mullion doors. Cathedral and arch panel cabinets have arch details that are elegant and classy, and utilizing decorative knobs and other details will make your kitchen beautiful. Traditional cabinets have raised panels that look nice in any kitchen. Open frame and mullion cabinets, primarily used for display thanks to the open panel on the front, add elegance to your kitchen through their simplicity and the fact that they go with all cabinets. You can also display elegant items inside your cabinets to add a personal touch to your kitchen.
Cabinets For a Modern Look
Modern kitchens are stylish and pretty, and there are several cabinet options that will fit. The key to a modern kitchen is simple design. Shaker and slab cabinets feature little to no design elements, so they'll fit perfectly into this streamlined space. But just because the space is clean and simple doesn't mean you can't have fun with it. Beadboard cabinets, with their beaded detailing on the front, will add dimension to your space when contrasted with shaker or slab style cabinets. Louvered cabinets are also great for creating a focal point. The slats on these cabinets are unlike any other cabinet style, adding a modern flair to your kitchen. If you want to keep your kitchen consistent, but aren't interested in shaker or slab cabinets, cathedral or arch panel cabinets are the way to go. The arch detailing on these cabinets will add an air of elegance without detracting from the modern look of the kitchen. The clean simplicity of mullion and open frame cabinets also lend themselves well to modern kitchens, and displaying sleek, modern décor in these cabinets will create a nice focal point.
Cabinets For Displaying Items
Part of the fun of putting together your kitchen is deciding what you'll display. You can display fun dishes and cookware or beautiful glassware, depending on the style of kitchen you're going for. Of course, the best cabinets for display are the mullion and open frame thanks to their glass panel. The mullion cabinet is great if you want a little extra detailing because of the decoration on the front, and the open frame is great if you want to keep things simpler. Shaker cabinets are also a great choice if you're planning to display items because they go well with open shelves.
Cabinets For Matching Bright Colors in the Kitchen
Who doesn't love a bright, colorful kitchen? Kitchens are where people go to create delicious food, and a colorful kitchen can evoke a feeling of creativity and inspiration. Cabinets don't typically come in bright colors, although you can paint them, but a neutral-colored cabinet can blend in well with a colorful kitchen. Shaker, slab, and arch panel cabinets are the best because they're simple. They'll fit with vibrant backsplashes, unique décor, and any eclectic items you want in your kitchen.
Cabinets For a Simple Design
If your tastes tend towards simple and unfussy, then cabinets with clean lines are the way to go. Shaker, slab, and louvered cabinets are classic, sophisticated, and have the clean lines that will make your kitchen feel streamlined. A bonus is that shaker and slab style cabinets are easy to clean. You'll save yourself lots of time and still have a nice, fancy space for your kitchen.
In Conclusion
There is a cabinet out there to fit any design. No matter what your personal style is, you're guaranteed to find the exact right cabinets you need. If you want a traditional style kitchen, check out the elaborate kitchen styles. If you're a fan of modern style, or you want to update your kitchen, explore the simple cabinets that will fit in a modern kitchen. And if you're remodeling, feel free to experiment with potential different styles. A remodel can be a chance to change things up, to update your space and make it something new and special. Feel free to explore how other people have decorated their kitchens and what they used to fit their chosen style. You'll find something that will work perfectly for you in no time at all.
Buy Cabinets from That Cabinet Company
When you buy cabinets from That Cabinet Company, you're guaranteed both quality cabinets and a quality shopping experience. We offer high quality cabinets at great prices, and a wide selection of cabinets to choose from. We also offer a free kitchen design tool to see your cabinets in your kitchen before you buy them. There are many shaker cabinets for you to choose from, and colors that will fit traditional kitchens, modern kitchens, or something in between. And the cabinets, especially RTA cabinets, are sold at a great price. Good news for anyone worried about kitchen renovation costs in 2022, since all the little things needed to finish a renovation can add up. If you buy RTA cabinets, check out our assembly videos for help with putting them together. You'll have a new, beautiful kitchen in no time. Check out That Cabinet Company's selection to find the perfect RTA cabinets for your kitchen today.