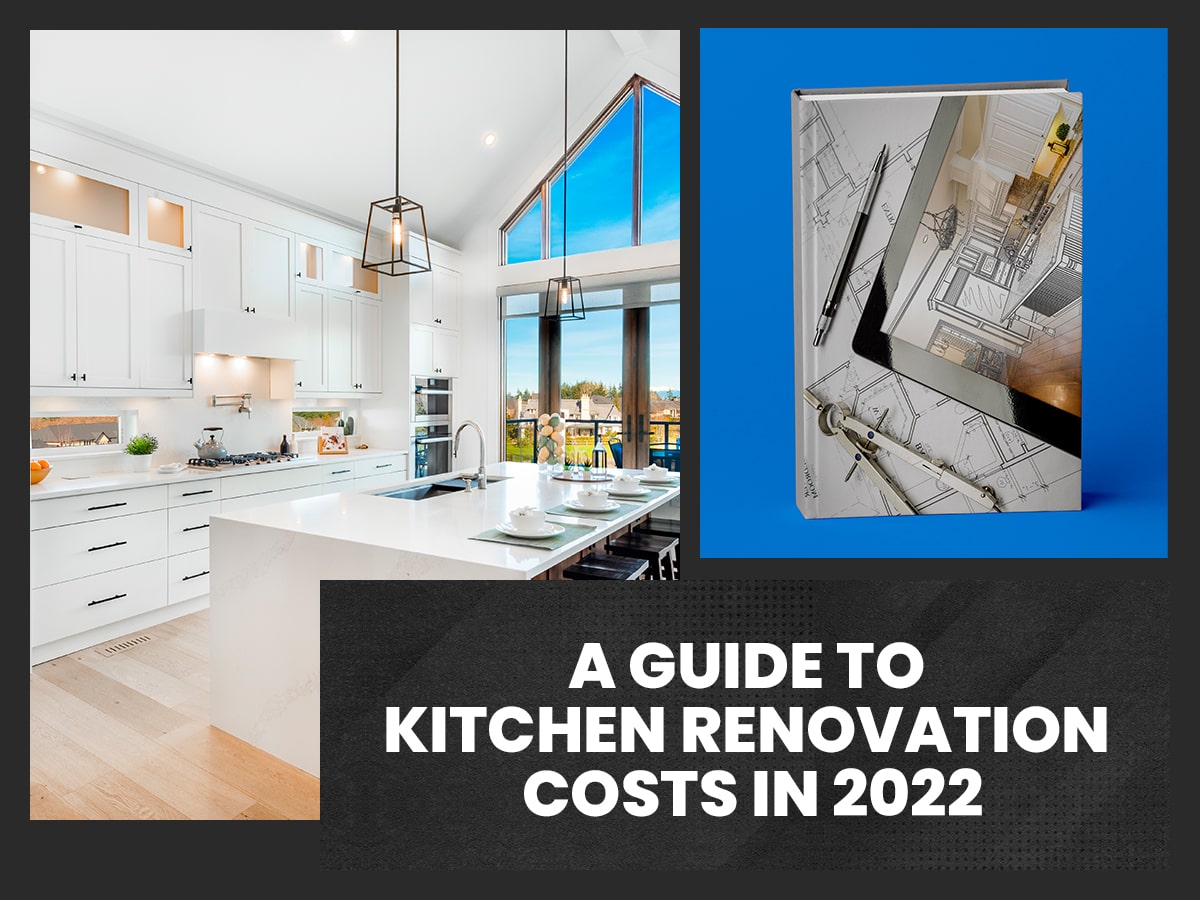 09 Aug

A Guide to Kitchen Renovation Costs in 2022
A Guide to Kitchen Renovation Costs in 2022
Kitchen remodeling is an excellent way to open up your home, breathe new life into it, and revamp your space. It can also be one of the most expensive home renovation projects you will ever take on. Kitchen Remodeling Costs can vary quite a lot depending on the size of your kitchen, how many walls need to be taken down and replaced, the type of materials you choose, as well as other factors. If you've noticed that your kitchen is starting to show its age, it might be time to get a makeover. From an aesthetic point of view, a new kitchen can give your home that fresh new look that you've always wanted. But what if we told you that a new kitchen is also an investment? Here are some renovation costs you should know about and how to save on those costs in 2022.
The Average Cost of a Kitchen Remodel
The average cost of a kitchen remodel is $31,000. This is a general estimate, and your cost will depend on a number of factors, including the size of your kitchen, the materials you choose, whether you get it done yourself or hire professionals, and whether you replace cabinets or just do a full remodel. One way to save on remodeling costs is by doing a smaller remodel on a room that is less important to the overall look and feel of your home. In this instance, you can keep your costs low while still feeling like you've made some progress. There are a number of kitchen remodeling costs that you should keep in mind. One is the cost of demolition. Depending on the condition of your kitchen, you may need to demolish part of it before replacing it. The cost of demolition is an important cost to keep in mind since it can have a big impact on your overall remodeling costs.
Consider Installation Costs
If you're planning on installing new cabinets or backsplashes, these costs will be included in the price of your new cabinets. If you're replacing your kitchen cabinets, these costs will be included in your new cabinets as well. Another way to save on kitchen remodeling costs is to consider a DIY kitchen remodel. This not only saves you some money, but it also gives you the chance to pick out your own cabinets and countertops, something that is rarely possible in a commercial kitchen setting. If you are considering a DIY kitchen remodel, you should also keep in mind the installation costs. You will need to include these in your budget.
The Size of Your Kitchen
The size of your kitchen will have a big impact on your kitchen remodeling costs. A small kitchen has many advantages, but it is also going to have a higher price tag. A large kitchen will cost more to remodel than a small one, but it also has many advantages as well. A small kitchen may cost between $9,000 and $15,000 to remodel, while a large kitchen may cost between around $45,000.
The Materials You Choose
Another way to save on kitchen remodeling costs is to consider the materials you choose. Most kitchens are constructed with cabinet and countertop materials that are considered standard. Standard materials are not the cheapest, so you may be able to save on these costs if you choose to go with less expensive materials. You may also be able to find leftover materials in your old kitchen that you can use in your new one. You may be able to keep your renovation costs low by picking up some used materials at a garage sale or by calling around to see if anyone has any extra materials they are no longer using.
Other Kitchen Remodeling Costs
One final way to save on kitchen remodeling costs is to do as much of the work as possible yourself. While this may seem like a good idea, it is imperative that you take steps to make sure that you are safe when working in your own home. By looking for DIY and assembly videos and getting as much of the renovation done as you possibly can, you can save a lot of money on renovation costs.
How to Save Money in Kitchen Remodeling
If you're planning on doing a smaller kitchen remodel, you can keep your costs low by using less expensive materials. Another way to save on renovation costs is to have a friend help you with the labor. This is especially helpful if the walls need to come down. Replacing your kitchen cabinets can make the most significant change to your kitchen. Consider if you want RTA Kitchen Cabinets of Assembled Kitchen Cabinets. RTA Kitchen Cabinets tend to be the less expensive option and you can DIY the assembly– saving costs on contracting. Before you start pricing out renovations, you should also keep in mind how you plan on financing those renovations. There is a number of different ways to do this depending on your financial situation. To get an idea of your cost to replace cabinets get a quote from a supplier.
So, in Conclusion
When it comes to kitchen remodeling costs in 2022, there are a few things you can do to keep your costs as low as possible. You will want to keep demolition costs and installation costs in mind when making your decision. If possible, try to replace your old cabinets with new ones instead of doing a full remodel on your kitchen. This will help you keep your renovation costs down while giving your kitchen an updated look. Finally, shop around for the best prices on materials and try to make your kitchen as DIY-friendly as possible.
Shop at That Cabinet Company for the Best Deals
One way to save on kitchen remodeling costs is to shop around. This may seem like a no-brainer, but you would be surprised at how many people don't do this. By shopping around, you can find the lowest prices on materials and get the best overall deal. For your new cabinet needs visit That Cabinet Company! We make the remodeling process go by smoothly by giving you a Free Kitchen Design! We offer the best deals on RTA Kitchen Cabinets and Assembled Kitchen Cabinets!