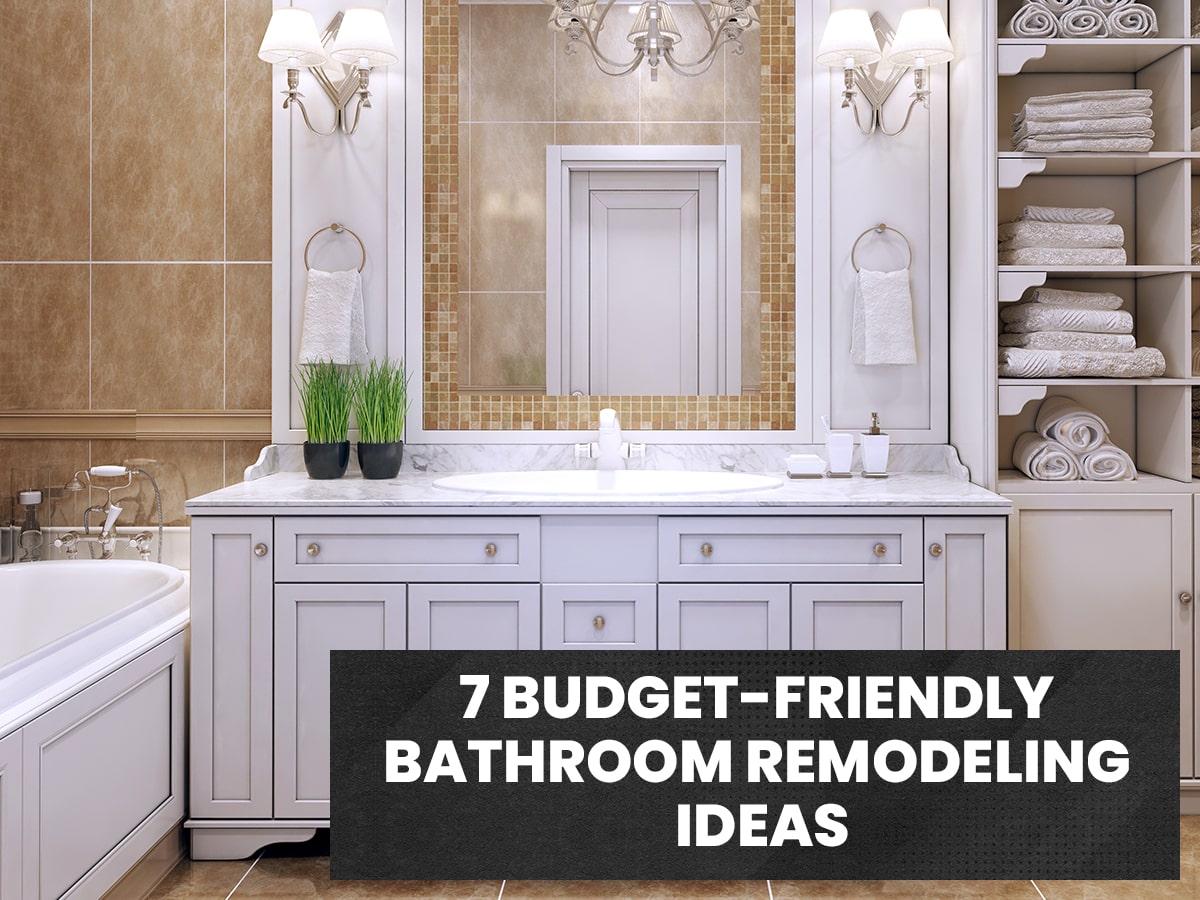 31 Mar

7 Budget-Friendly Bathroom Remodeling Ideas – That Cabinet Company

Bathroom remodeling can be an expensive improvement project, but when it's executed properly not only will it be a style you love but it can increase your property value as well. So, we like to think of it as more of an investment. Updating your bathroom without breaking the bank, however, is possible! There are many budget friendly renovation ideas out there, and whether you're working with a big or small bathroom remodel, there's something for everyone! And we're here to give you 7 of the best budget-friendly bathroom remodeling ideas out there.
1. Update lighting and fixtures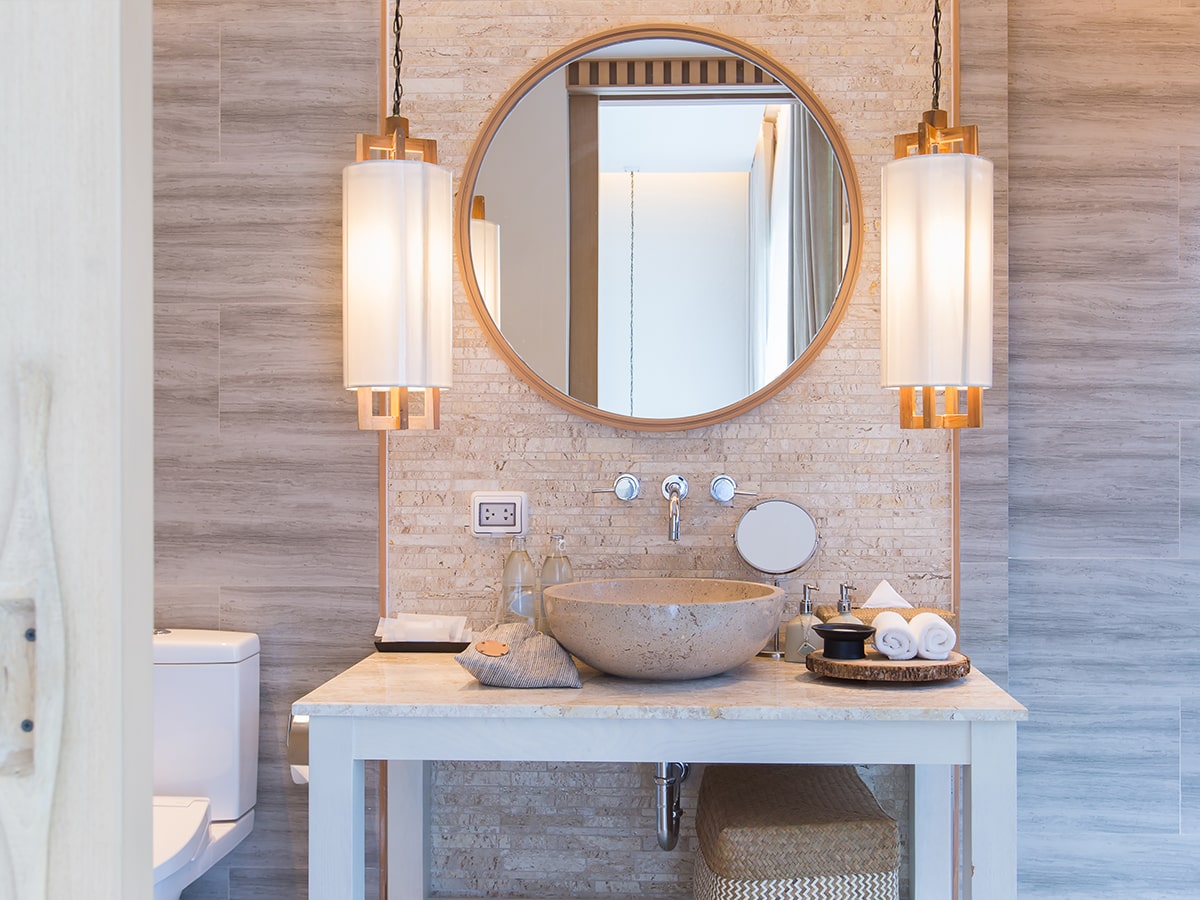 Updating bathroom lighting and fixtures can have a significant impact on the overall look and feel of your bathroom. Different types of lighting can create different moods. For example, bright overhead lighting can be great for getting ready in the morning, doing makeup, or any type of self-care. While soft, dim lighting can create a relaxing atmosphere for a bubble bath. If you'd like to be versatile, consider installing dimmer light switches so you can adjust the lighting according to your needs. Another upgrade that could save you money on your energy bill over time is switching over to energy-efficient lighting. Look for options such as LED bulbs and Water Sense certified faucets and showerheads. This project cost can vary depending on your preferred lighting and fixtures, however you can expect to spend anywhere between $50 – $300.
2. Paint your bathroom walls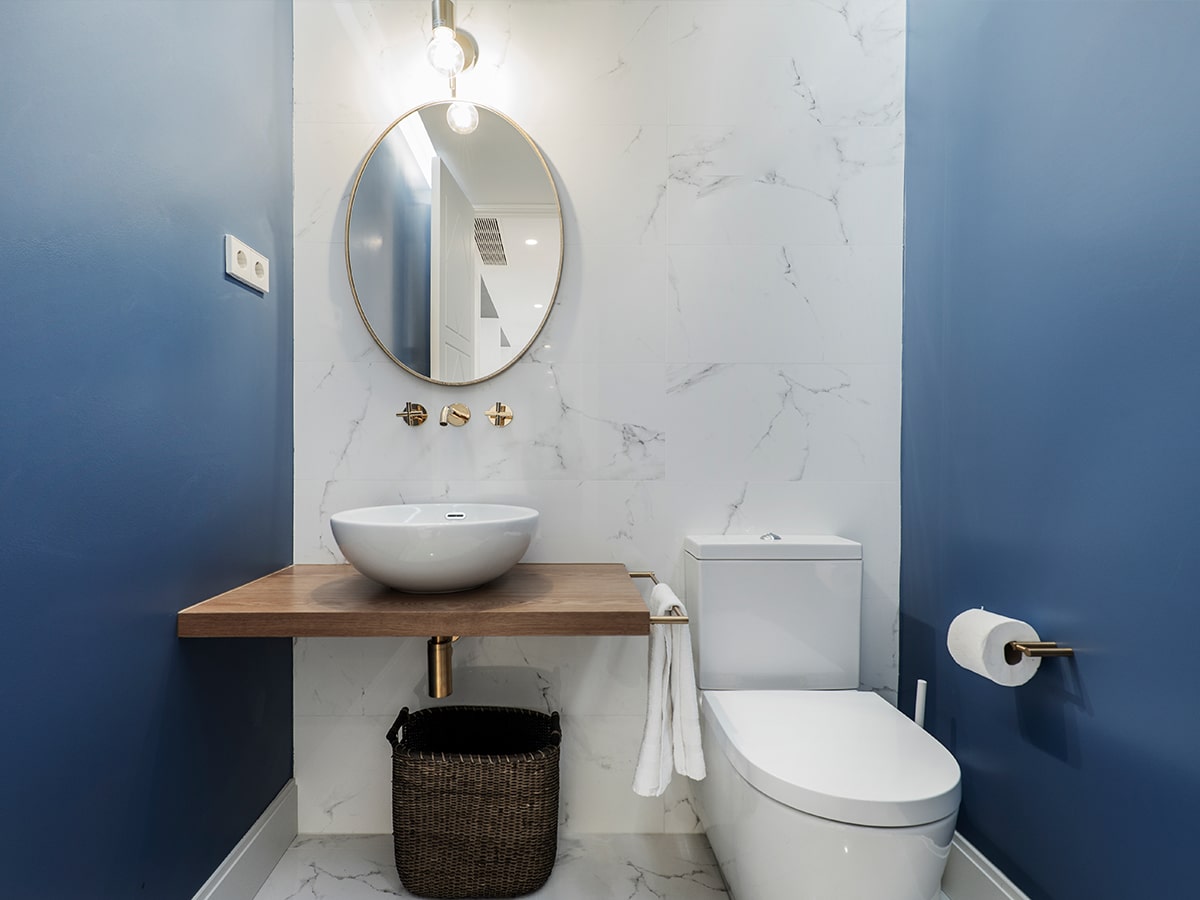 Painting your bathroom walls is a simple and affordable way to give your bathroom a fresh new look. Bathrooms are high-moisture areas, so it's important to choose a paint that can withstand humid and moist conditions otherwise the paint will just start peeling. Look for paint that is specifically designed for use in bathrooms or choose a semi-gloss or high-gloss paint, which are more moisture resistant. The color you choose for your bathroom walls can have a big impact on the overall look and feel of the space. Consider using light, neutral colors to make the room feel larger and brighter, or bold, darker colors for a dramatic effect. The cost of this project will depend on the size of your bathroom walls. Expect an average cost of $50 – $800.
3. Update cabinet fronts/doors
Replacing your entire bathroom cabinet is a pretty expensive and tedious project. Instead of gutting out your whole cabinet, consider replacing your bathroom cabinet doors. Swapping out your bathroom cabinet fronts for a new look is relatively simple and cost-effective. Simply pick a style cabinet that you like, measure your bathroom cabinet doors, and attach. However, you want to make sure to measure carefully and choose high-quality door fronts that will last for years to come. Purchasing your bathroom cabinets may be the most expense of this project, but when you shop with That Cabinet Company, you can choose from quality bathroom cabinet doors ranging from as low as $150 – $400. Chose from our most popular designs like Dakota White Shaker cabinets or our Heather Gray Shaker cabinets.
4. Open Shelf Cabinets
Open shelving in a bathroom can create additional storage space. Open shelving is also a popular look for homeowners because it provides a very minimalist, open space, spa look. They make for easy storage of towels, decorative items, and even plants to compliment the minimalist style. However, though this is a popular style, you may want to consider the amount of storage you need. While open shelves can be great for storing and displaying items, they may not provide enough storage for larger items like toiletries or cleaning supplies. Before renovating, consider your storage needs and whether open shelving alone will be enough. You may need to consider having half open shelf cabinets and the other half as regular cabinets. Overall, you will still need a cabinet base. On average, this project should be fairly cost effective- when done as a DIY project. If you plan to remove the doors yourself, then the cost will be minimal and you will only need basic tools such as a screwdriver, drill, or hammer. This is a simple DIY project that should keep you in a budget of $20 -$50.
5. Install a new vanity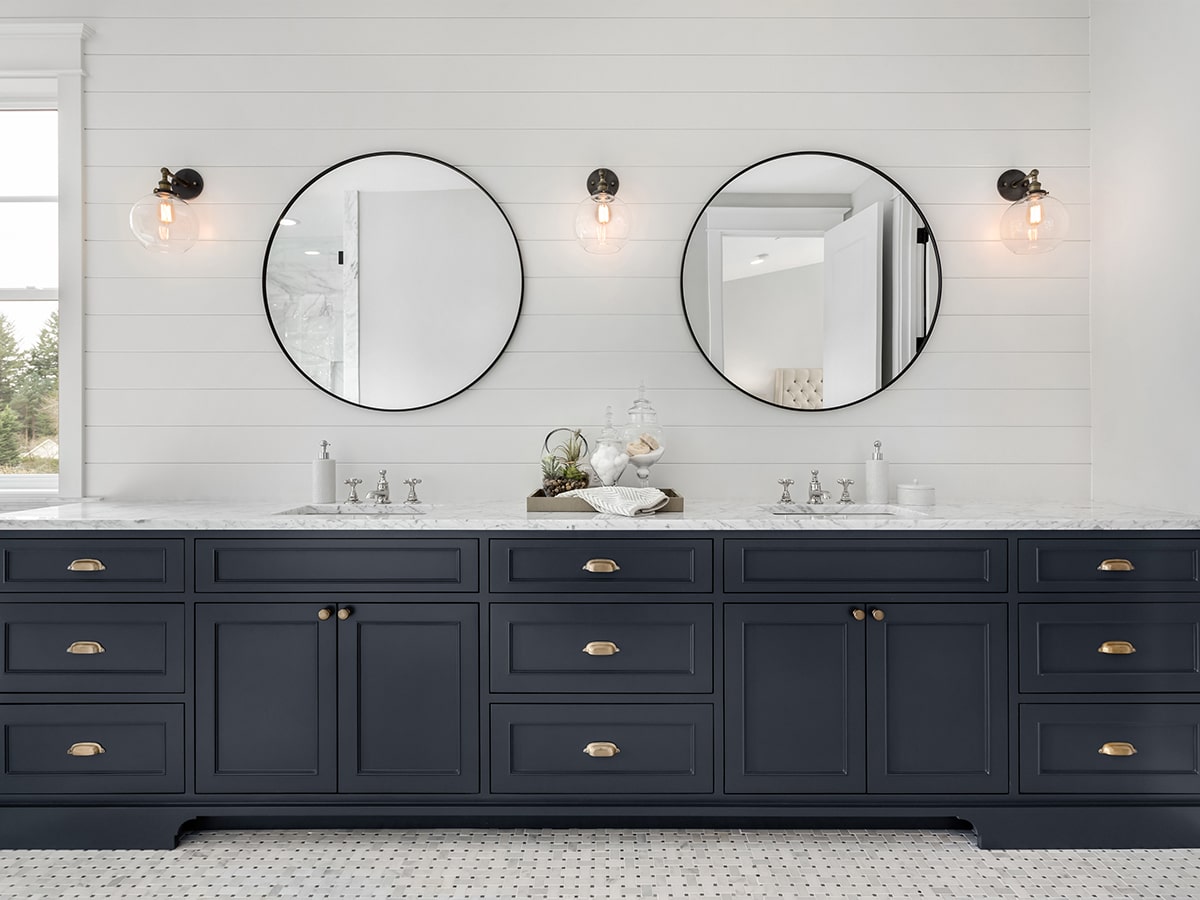 Your bathroom is your sanctuary for all things self-care, so it should feel like it! Creating a specific space to pamper yourself in the bathroom is a sure way to spruce things up and add an upscale feel to it. Bathroom vanities are a popular choice for homeowners, especially women, and they add value to any home. They can be a creative DIY project, or you can have them prebuilt and ready to install. But before purchasing a new vanity, measure the space where it will be installed to ensure it will fit properly. Also, consider your light and mirror options for your bathroom vanity. This project can cost on average $200 to $1500 depending on a range of aspects such as the size and material of your vanity and installation requirements.
6. Renew bathroom Tile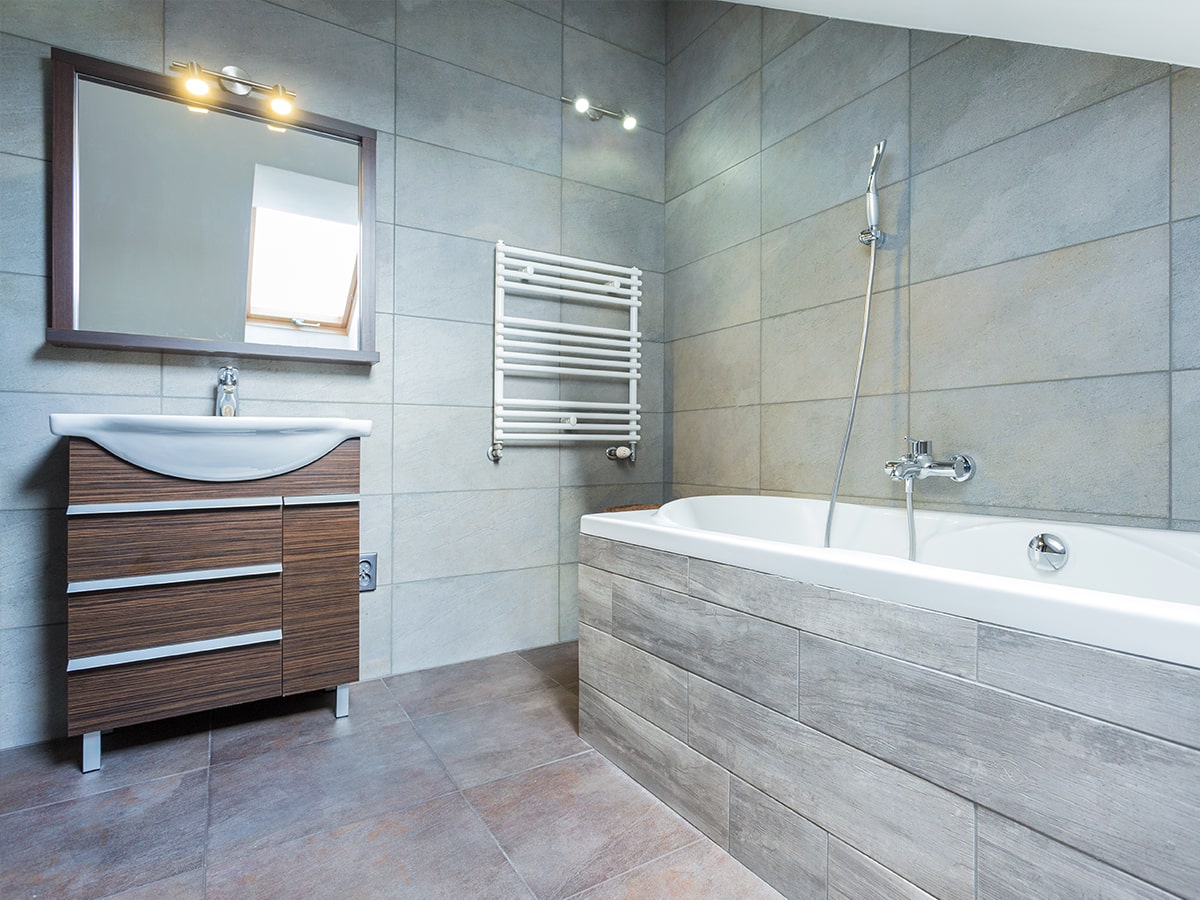 Renewing your bathroom tile is another inexpensive idea to transform the look of your bathroom design. Because it can be a DIY project, it's considered budget friendly. You can add bathroom tile to your floor or get creative and add them to accent bathroom wall. The most important part of this renovation task is choosing your tile color and pattern. Choosing the right color scheme can boost the energy in your bathroom and encourage a relaxing environment. Also, choosing the right pattern can add visual appeal to your bathroom layout. However, you want to make sure to consider your overall bathroom theme, so that your layout does not become overwhelming with the colors and patterns you've chosen. By renewing your bathroom tiles, you can add value to your home if you plan on selling it in the future. If you're looking to re-grout your bathroom floor, then you're looking at an average price range of $500 to $1000. However, adding simple accent tile to your bathroom walls is a much simpler and cost-effective task that can easily be a DIY project, which can run you about $50 to $250 depending on the size of the wall and tile you choose.
7. Add floating Shelves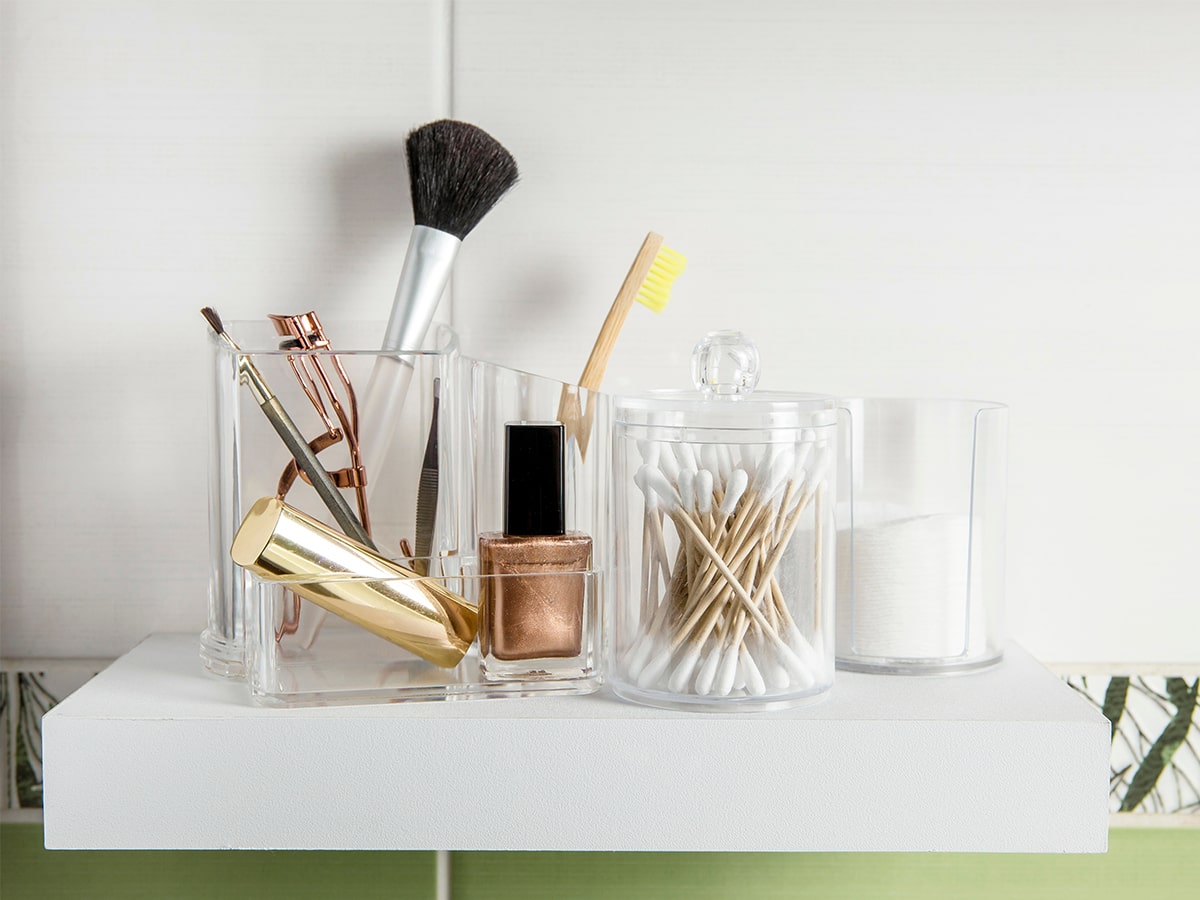 Floating shelves can be a great addition to a bathroom as they provide additional storage and display space while also creating a stylish look. They also make a great DIY project, which can be great for budgeting. Deciding on the location of the floating shelves and ensure that they are installed in a place where they will not interfere with any fixtures or plumbing may be the tricky part. Choose materials that are moisture-resistant and can withstand the humidity in your bathroom. Materials such as glass, acrylic, or metal are a great option for floating shelves in the bathroom. Wood can also be used, but it must be properly sealed to protect it from moisture. Depending on the material that you choose, the cost of this project can range from $20 to $100. Once the shelves are installed, style them with items that are both functional and decorative. Consider using woven baskets or decorative boxes to store toiletries or towels. Add decorations like plants, candles, or other decorative items to create a stylish look.